Whoever said that co-parenting isn't possible has obviously not tried getting sports jerseys involved.
On April 15, 2017, Emilee Player from Columbus, Georgia, posted a photo on Facebook of her, her husband, his ex-wife and her new husband together at a soccer game supporting their 4-year-old daughter Maelyn Player.
Getting that whole gang together is overcoming one hurdle, but our favourite part? They're all wearing customized jerseys with their respective titles on them.
Alongside the photo, Player wrote: "Because of us, I will never believe co-parenting can't work! I KNOW through experience it CAN WORK! Choose to do what's best for your child and everything will just fall into place."
And after all these years of posting photos together on Facebook, this is the first time one of their photos has gone viral.
When speaking with the local news station, Clara Cazeau, Maelyn's mother, said that what they've learned about co-parenting is that it's all about being mature, each person needs to be "100 per cent in it" and that you have to "be able to put your differences aside for the good of your child."
According to Cazeau, even Maelyn has learned a lot from all of this and become more accepting towards others.
Recently, Player and her husband, Ricky (Maelyn's father), welcomed another daughter into their family and Player told The Huffington Post that both Cazeau and her husband, Alex, have been as involved in her life as they've been in Maelyn's.
Cazeau revealed that they even celebrate birthdays and holidays together, according to The Huffington Post.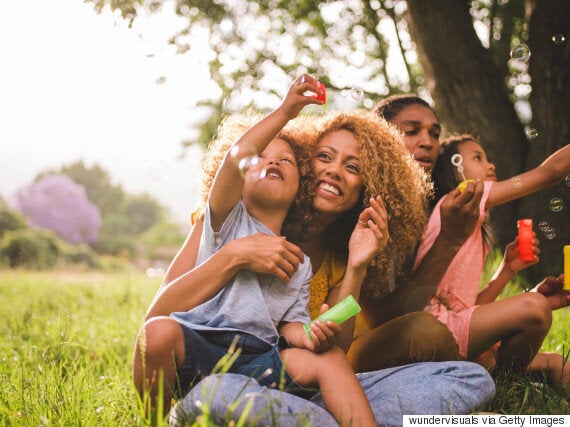 It seems co-parenting can be a lot of fun, if you know how to do it right. Even single people have been getting in on the action.
The woman, Tatiana Busic, had a daughter from a previous marriage, and wanted another child but without also navigating a romantic relationship. Through Modamily, she met Brendan Schulz, a gay man who was looking to raise a kid of his own.
From there they decided to do their own artificial insemination, which resulted in the birth of their son Milo. Seven months later and Busic and Schulz are happily still co-parenting together.
It might sound difficult to some people, but as these stories show, you don't always need to be in an intimate relationship with the people helping your child thrive.