Kim Kardashian is many things — a reality star, a mom, a wife, a sister — but despite her endorsement of a multitude of health-oriented products, she is most definitely not a doctor.
This point was driven home once again in a now-deleted tweet from April 19, 2017, in which she noted, "The flu can be an amazing diet. So happy it came in time for the Met lol #6lbsdown."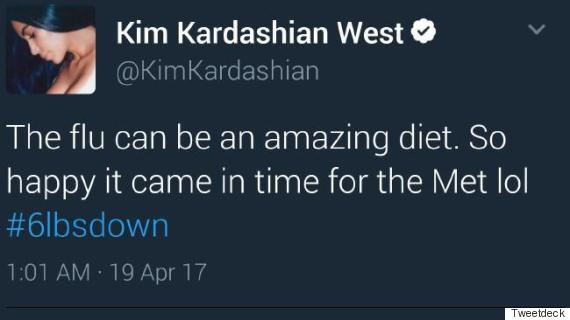 Screenshot of now-deleted tweet
She was referring, of course, to her upcoming attendance at the Met Gala on May 1, 2017, an event widely regarded as the apex for fashion-forward stars.
In the past, the 36-year-old mom of two has worn some seriously body-hugging outfits, so it's no surprise she wants to look her best for this year's gala, and if to her that means dropping a few pounds, so be it.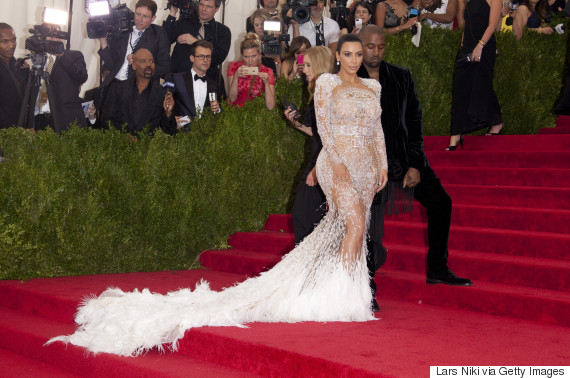 Kim Kardashian West and Kanye West attend 'China: Through the Looking Glass' 2015 Costume Institute Benefit Gala at the Metropolitan Museum of Art in New York City.
But for someone who's well aware of her influence over her millions of followers, it seems pretty irresponsible to praise the effects of the flu for that particular goal.
There were plenty of people on Twitter who felt the same way:
The flu can kill people @KimKardashian. It's not a diet. Please stop tweeting dumb things, it's embarrassing for the rest of us. #kimye https://t.co/zBxU1fEFzn

— britt mezher (@maidenwarrior) April 19, 2017
@KimKardashian People also die, from the flu...but glad you feeling better pic.twitter.com/KaoQi2z9Mp

— Kevin Herringbone (@steelyDaniels) April 19, 2017
Earlier this month, Cosmopolitan magazine was called out for implying a woman's cancer was responsible for her significant weight loss, with many people angry that they appeared to celebrate having this life-threatening illness.
Kardashian's tweet seemed to be doing much the same thing, belittling the very real hazards of the flu.
The fact that Kardashian has taken the tweet down, of course, could mean she realized how potentially dangerous it was, and we just hope she thinks twice before doling out that kind of advice again.