Ottawa police are asking the public for help in their search for a woman who allegedly forced a man with autism to give her money. They say the 25-year-old was likely targeted because of his "cognitive disability."
The incident occurred on March 31 at the city's Rideau Centre mall. Robert Jarencsni was on his way to catch a bus when he was stopped by a woman who asked him to donate to an unknown charity, his mother Susan Torrie told CTV News.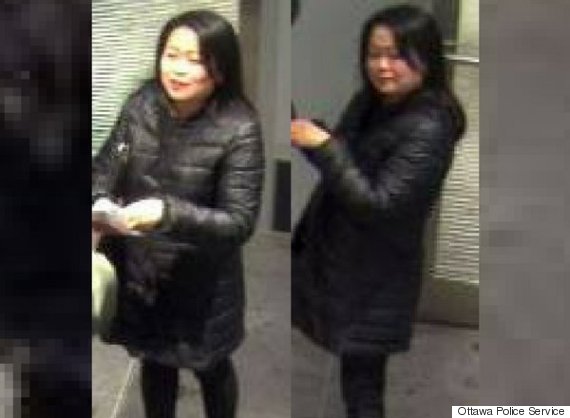 Ottawa police released these photos of the suspect.
Jarencsni avoided her at first, but then she became more insistent.
"As he describes it, she then pulled him toward the bank machine and got him to enter his PIN number and, as soon as he did, she pushed him or moved him out of the way and emptied his account," Torrie said.
The incident has changed her son and he no longer feels safe taking public transit, she added.
Rideau Centre's general manager Cindy VanBuskirk told the Ottawa Sun that the mall has a no-solicitation policy, and they are co-operating in the investigation.
Police are now searching for the suspect, and describe her as an "Asian female, approximately 35 years old, small build wearing black pants and a black jacket."
People with disabilities more commonly targeted
Canadians with mental and physical disabilities are more likely to be victims of crimes, according to Statistics Canada. These individuals, particularly those between 15 to 24 years of age, are often targeted because of their reduced abilities to defend themselves.
The RCMP lists several ways Canadians can avoid charity scams, such as asking for written information before donating, and refusing to give money to people being overly persistent. More tips can be found here.
Follow The Huffington Post Canada on Facebook, Twitter, and Instagram.
Also of HuffPost:
Dad's Photo Series Highlights The Many Faces Of Autism