For the last time: Asylum claimants who illegally cross into Canada from the U.S. don't receive an automatic welcome into the country.
That's the message Public Safety Minister Ralph Goodale wanted to send with a statement shared to his website in March.
"To be clear — trying to slip across the border in an irregular manner is not a "free" ticket into Canada," reads the statement, which was recirculated to media this week for stories about a recent increase in illegal border crossers.
"The asylum seekers are apprehended and secured by police or local authorities. Their identities are determined from both biographic and biometric information. Health checks are done. Their records are examined for any immigration, criminal or terrorist flags against both Canadian and international databases," it stated.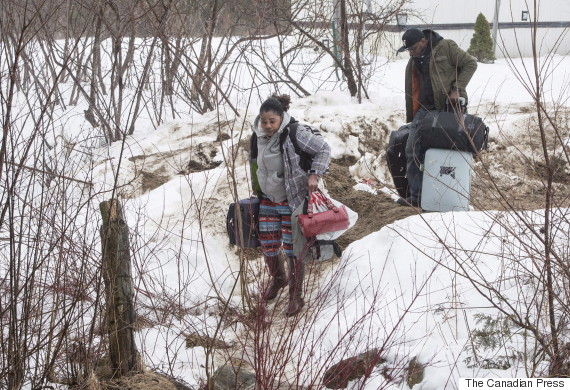 Two asylum seekers claiming to be from the Democratic Republic of Congo cross the border into Canada from the U.S. on March 28 near Hemmingford, Que. (Photo: Paul Chiasson/The Canadian Press)
Those who can't be identified, are deemed a flight risk or a danger to the public may be detained, according to the statement. Each person appears before the Immigration and Refugee Board to have their claim heard. If their claim is deemed invalid and the person inadmissible, officials start the deportation process.
The number of people stopped by the RCMP after illegally entering Canada rose in March.
New figures released Wednesday by the federal government show the RCMP intercepted 887 people crossing between official border points, up from 658 in February and 315 in January.
Between March 20 and April 16, three out of 135 people intercepted crossing near Emerson, Man. were detained because RCMP determined they were a danger to the public, according to numbers obtained by CBC News.
One of those detainees was charged with assaulting a police officer.
But in a tweet sharing Goodale's statement, Reuters reporter Anna Mehler Paperny pointed out that people aren't usually interested in being arrested unless they're serious about seeking refugee status.
statement from Public Safety Minister @RalphGoodale is worth clipping and saving. no one* is here for lulz unless they love being in custody pic.twitter.com/xvdjMQFMh4

— Anna Mehler Paperny (@amp6) April 20, 2017
Those who cross in search of asylum also do not get to "jump the queue" ahead of those in refugee camps.
People who cross the border into Canada and those waiting to be resettled from outside the country are processed differently.
Canada does have a target for the number of resettled refugees it wants to accept — the government aims to take in 25,000 in 2017 — but immigration lawyer Ken Zaifman told CTV Winnipeg he thinks Canada has to pick a limit for all refugees.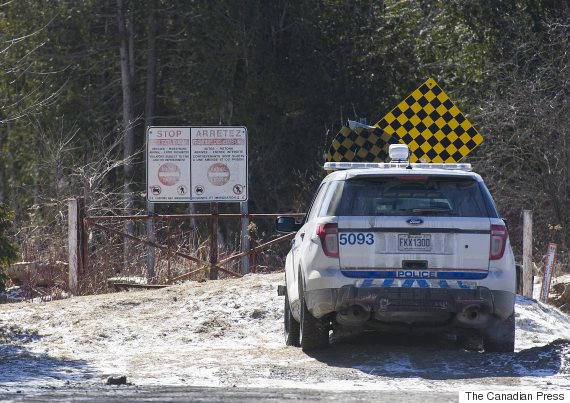 An RCMP cruiser is shown next to the U.S. - Canada border in Hemmingford, Que. on March 5. (Photo: Graham Hughes/The Canadian Press)
"The government has to decide, at the end of the day, there's a limited number of refugees that Canada can absorb and take and fund," he said.
People who are self-selecting by walking into Canada may have an impact on the total number of refugees accepted from outside the country, he said.
Under the Canada-U.S. Safe Third Country Agreement, people who seek asylum in Canada at official crossings can be turned away, because they are obliged to seek it in the first country they enter. But a loophole in the agreement allows people to make a claim if they manage to get into Canada another way.
With files from The Canadian Press
Also on HuffPost
RCMP Officers Help Refugee Claimants Into Canada From U.S. Border