As President Donald Trump barrels toward his 100th day in office, the administration is returning to the primary ethos of his campaign: Just win.
Really, any win will do, as long as the veneer of progress comes with it. But the problem for Trump and congressional Republicans is that they're still far off from "winning" on any number of legislative fronts. If anything, Trump's desire to achieve a flurry of victories next week risks several high-profile setbacks.
The White House's primary focus still appears to be the revival of health care reform discussions, with administration officials pushing forcefully for a vote on refined Obamacare repeal and replace language in the upcoming week. But House GOP aides, themselves highly eager to get something out of their chamber, acknowledged that they're not yet at the point of whipping votes ― there isn't even legislative text to consider.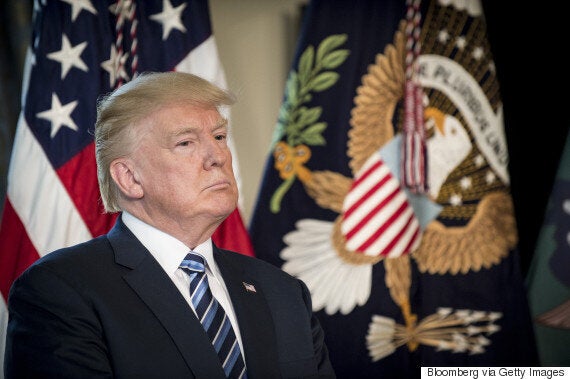 President Donald Trump is expected to drop a major tax reform next week. Photo: Getty
The White House continued to tout what it framed as solid progress, suggesting on Friday that Senate Republicans were also entertaining health care legislation. But Sen. Susan Collins (R-Maine), who was rumored to be in discussions with House conservatives, said no such talks had taken place, and a top Senate GOP aide threw cold water on the idea that they'd have their own bill.
"We're not drafting anything," the aide said. "We're looking at and reviewing the language of the House bill, but nothing beyond that."
As health care reform remained in limbo, Trump also announced he would drop a major tax reform plan next week, saying it would include "massive" cuts. But as Reuters reported, "the news came as a surprise to lobbyists and congressional aides who had no idea what Trump's announcement might include." Indeed, few Republicans on the Hill expect tax reform to happen anytime soon, not only because it is predicated on health care's passage but also because Trump has not embraced leadership's border adjustment proposal.
Once hopeful for a bill being passed by August, Republicans now expect that action will take place well beyond then.
The one "accomplishment" that Trump and Congress actually need before the first 100 days ends is a government funding bill. But even that feat may be more modest than Republicans had hoped. A senior GOP aide told The Huffington Post on Friday that the possibility that Congress would have to pass a short-term funding bill next week to extend current spending, instead of a larger omnibus bill that would fund new priorities, was "not insubstantial."
Congress has already passed multiple continuing resolutions to extend a government funding deadline that first began in October. In December, Trump implored Republicans to pass another CR so they could write a more conservative funding bill. Another short-term funding bill would mean Congress still needs more time, even after these extensions. And even if Republicans were able to get an omnibus spending bill done next week, it would likely include few wins for Republicans.
The administration hopes to use the government funding bill to secure money for the president's infamous border wall. Office of Management and Budget Director Mick Mulvaney has offered Democrats $1 in disputed Obamacare subsidy funding for health insurance companies for every $1 in wall funding. But both Democratic and GOP aides told HuffPost this week that they expected money to go only toward border security and not physical wall construction. Senate Minority Leader Chuck Schumer's (D-N.Y.) office scoffed at Mulvaney's offer.
"The White House gambit to hold hostage health care for millions of Americans, in order to force American taxpayers to foot the bill for a wall that the President said would be paid for by Mexico is a complete non-starter," said Schumer's spokesman, Matt House. "The U.S. government is supposed to take care of its citizens and, according to the President, Mexico is supposed to pay for the wall. If the administration would drop their 11th hour demand for a wall that Democrats, and a good number of Republicans oppose, Congressional leaders could quickly reach a deal."
And so, the White House is staring down the possibility that it could hit the 100-day mark in the midst of a government shutdown — or, less severe, with few legislative accomplishments for the president to champion. Trump seemed to brush off the severity of the latter when he spoke to reporters on Friday afternoon.
"It doesn't matter if it's next week," he said of health care. "Next week doesn't matter."
But it's clear that the possibility of a bare legislative cupboard is bothering Trump. He has bemoaned the arbitrary nature of the 100-day mark and preemptively criticized the media for its coverage of it. And he's continued spending copious amounts of time holding public signing ceremonies for executive orders.
Those orders, however, are largely if not wholly symbolic, often just directing federal agencies to review current practices and then eventually draft a memo to Trump recommending changes.
The "Buy American" order that Trump signed this week, for instance, directs federal agencies to evaluate the effectiveness of the government's current efforts to favor U.S. firms in the procurement process ― in which the government spends hundreds of billions per year buying goods and services from private companies. Then, the agencies will make recommendations to the secretary of Commerce within 150 days, and the secretary will write a report for the president.
Arthur Delaney contributed reporting.