MONTREAL — Initially, Nathalie Langlais thought her winning lottery ticket was worth $55.
Then she saw three more zeros on her smartphone.
"I said, '$55,000, that's impossible!'" Langlais told a news conference at Loto-Quebec headquarters Monday, three days after the Lotto Max draw.
But then she saw three more.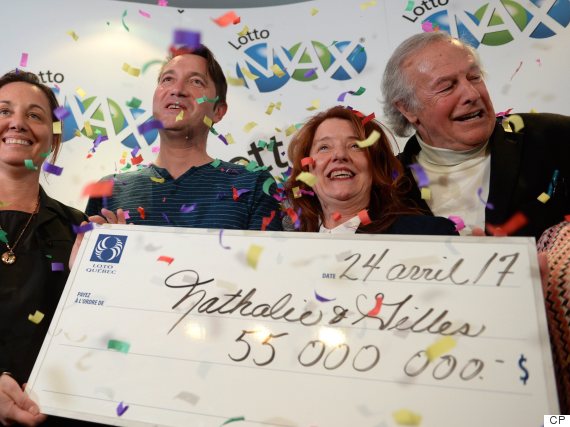 Nathalie Langlais and Gilles Rosnen celebrate with family members as they hold their winning $55-million lottery cheque in Montreal on April 24. (Photo: Ryan Remiorz/The Canadian Press)
"I said, 'I'm dead! I'm going to go crazy.' I ran to my husband to see what's going on, to see if I'm crazy."
She was indeed sane — and she and her spouse, Gilles Rosnen, were $55 million richer.
Langlais and Rosnen said they hid the winning ticket in their daughter's toy box over the weekend.
She said she doesn't play the lottery often and that she rarely checks her ticket quickly after the results are known.
"I said, 'I'm dead! I'm going to go crazy.' I ran to my husband to see what's going on, to see if I'm crazy."
"I don't know what happened to me but first thing in the morning on Saturday I decided to double-check the ticket on my phone,'' she said. "And I thought, 'Wow, $55!'
"I didn't understand what was going on because the lovely music was playing that we all like."
Langlais said she went upstairs to see Rosnen and told him she was "flipping out."
They then placed the ticket in the toy box, which they had recently cleared out.
Not quitting her job
Langlais, 52, works in communications and said she doesn't intend on leaving work just yet.
"I love my work, I never thought of leaving in the short term and I have contracts to finish," she said. "I said to my boss: 'I'm not saying bye-bye, but I won't be at work on Monday.'"
She said she plans to spend the money on her extended family and on vacations.
Loto-Quebec said the couple has been buying lottery tickets at the same convenience store for several years.
"We're kind of (living) in a parallel world," Langlais said.
Also on HuffPost