In an attempt to to yet again turn a cheap item into a high fashion accessory, French fashion house Balenciaga recently released an "Arena Extra-Large Shopper Tote Bag" that is essentially a luxury version of to the 99-cent blue Ikea shopping bag that we all use to haul laundry.
The high fashion Ikea bag made its runway appearance back in the fall and is now available to purchase for a mere $2,145.
Ikea smartly decided to use this as an opportunity to respond in the most perfect way possible. Yesterday, the company's creative agency posted a photo on Instagram illustrating the different ways that you can identify the original Frakta bag from the "fake" one.
When speaking with Creativity, ACNE's creative director Johan Holgrem said that they wanted to "act fast" as soon as the bag came out and wanted to shoot the Ikea bag in the same style as the Balenciaga one. As for Holgrem's thoughts about the luxury shopping bag, he said that it was "unexpected and brilliant" and that he likes the "flirt" and thought, "Why not flirt back?"
This isn't the first time the French fashion house has tried to appropriate everyday items into high fashion accessories. In Demna Gvasalia's first show as the creative director of Balenciaga, they premiered a slew of new shoulder bags and totes that looked decidedly similar to the plastic shopping bags you can purchase in Thailand.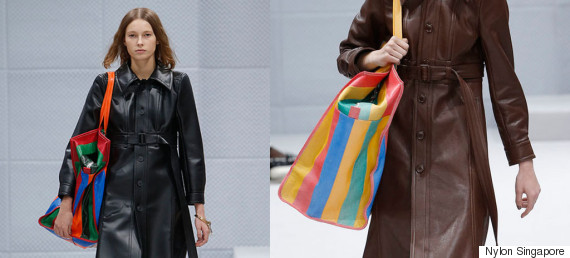 All of this comes to no surprise though, as Gvasalia is notorious in the world of fashion for doing exactly this. In the past, his fashion brand Vetements has released $330 DHL T-Shirts, oversized Champion brand hoodies for $735, a reconstructed Levi's jeans for $1,460 and a $1,695 skirt with a Star Wars poster printed on it.
There's no accounting for what makes things fashionable — remember trucker hats, everyone? — and maybe Gvasalia is onto something. But at the very least it's giving companies like Ikea an opportunity to crack some jokes and have those of us who are inclined to laugh at the absurdity of it all.