You know those friends you had in school who were so close, so cosmically intertwined that they almost always just knew how the other person felt?
Justin Trudeau and Donald Trump are not like those people.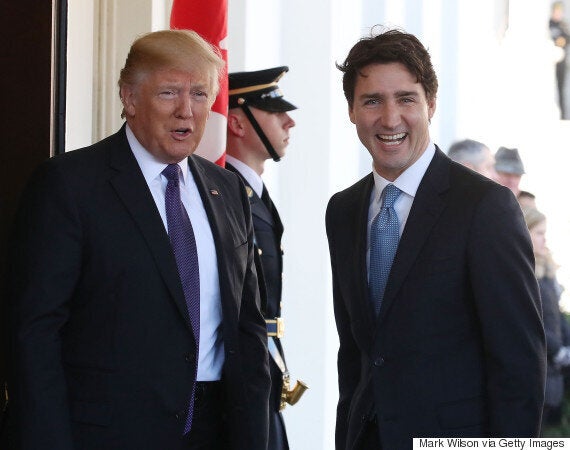 On Monday, the U.S. president kicked off the latest chapter in a decades-long kerfuffle over softwood lumber between Canada and its neighbour. Trump announced a 20 per cent tariff on Canadian lumber entering the U.S. — a move that added a sudden dose of tension to an already awkward experience that includes an upcoming NAFTA re-negotiation.
The next day, Trudeau and Trump had a little chat to to discuss the developments. Below, courtesy of NBC News' Bradd Jaffy, you will find their hilariously different takes on that phone call side by side:
Besides the glaring difference in word count, it's the tone set in each readout that really stands out.
Trudeau said he "reaffirmed" the relationship the U.S. and Canada share, but added he "refuted the baseless allegations by the U.S. Department of Commerce and the decision to impose unfair duties" on lumber.
The prime minister went on to say that his government won't just defend the interests of its lumber industry — it'll put up its dukes to protect dairy farmers, too. Trudeau concluded his statement saying the two leaders would continue their dialogue on these trade issues.
Meanwhile, over at Trump's readout of the chat, the president said he and Trudeau discussed lumber and dairy and that it was a "very amicable" call. That's it.
The resemblance is truly uncanny.
At a media availability in Kitchener, Ont. earlier in the day, Trudeau said the Canada-U.S. relationship is bigger than any one trade "irritant" — and that Canada needs to impress upon the U.S. that both countries would suffer from a "thickening" border.
"You know, when you're dealing with a bully, at some point you've got to stop backing up," Mulcair told a news conference in Ottawa. "And that's all Mr. Trudeau seems to be able to do with President Trump and with the current U.S. administration is just keep backing up."
With a file from The Canadian Press