Remember the spectacular iceberg that parked itself off the coast of Ferryland, N.L. earlier this month, attracting worldwide attention?
Well, it turns out that all those beautiful photographs only paint a small picture of how amazing it really was.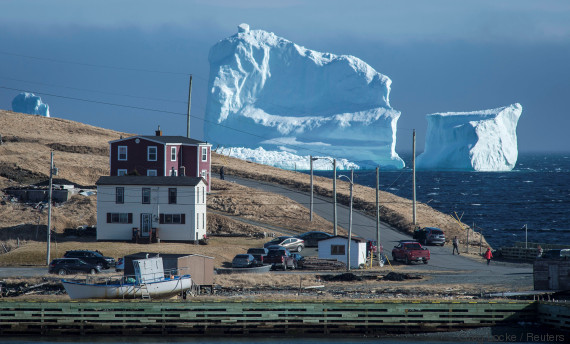 Residents of Ferryland, N.L., view the first big iceberg of the season in "Iceberg Alley." (Photo: Greg Locke/Reuters)

A new video of the Newfoundland ice mass, taken from the air earlier this month, shows off even more stunning views of the 'berg.
In the video above, water can be seen swirling and churning around the ice mammoth.
The Ferryland iceberg has since begun to drift away from its scenic resting spot, but over the Easter weekend it caused bumper-to-bumper traffic jams in the small town of 500 people.
Earlier on HuffPost: The Enormous Ferryland Iceberg Is Drifting Out To Sea
Diane Davis, who runs the Newfoundland Iceberg Reports Facebook group, says she has seen hundreds of frozen slabs in her years as an amateur berg-hunter, but the Ferryland gem appeared to be a special find.
Ferryland iceberg in all her glory! 📷 @gongml#iceberg#prehistoric#exploreNL#exploreCanada#photooftheday@QuidiVidiBeer@Neil_Zeepic.twitter.com/nx8I3cd7xY

— Iceberg Quest Tours (@IcebergQuest) April 12, 2017
"Every one (iceberg) has a got a shape and personality to it," Davis said. "It's so big and sexy, and against the ocean, it's so photogenic, and that's why it's getting so much attention."
With files from The Canadian Press
Also on HuffPost: