To many, the thought of 10 Donald Trumps in one room sounds like a nightmare.
But it was all laughs at a comedy club in Los Angeles Wednesday night, where impersonators gathered to battle it out with their most "tremendous" embodiments of the U.S. president.
Each outfitted with spray tans, elaborate blonde wigs and ill-fitting suits, the wannabes took the mic at the Laugh Factory for two minutes each, spouting off Trump-esque policy statements and cracking jokes, reports International Business Times.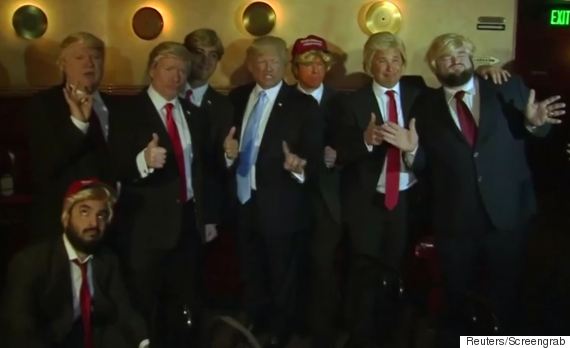 That's a lot of Trump, even for a comedy show. (Photo: Reuters/Screengrab)
Las Vegas impersonator John Di Domenico impressed the judges — a panel that included "Saturday Night Live" alum Darrell Hammond — most, and took home the top prize, which includes a role hosting an online fake news comedy show.
"I won, I won. I just keep winning. That's what I do, I win. That's all I do," joked Di Domenico to Reuters about his victory.
The key to nailing a good Trump impersonation is more than just the voice, he explained.
"With him, there's the throat placement, the nasal placement, the very unusual pronunciation and vocal production that he has, and then so much of it is attitude. 'I'm tremendous, I'm fantastic, I'm incredible.'"
Check out the spot-on impersonations in the video above.
Also on HuffPost