GRAY, Sask. — Prime Minister Justin Trudeau is defending his proposed carbon tax after a visit to a farm in the community of Gray, south of Regina. Trudeau then held a news conference at the local rink, where he said putting a price on carbon pollution is a way to reward people who are innovating and reducing their carbon output.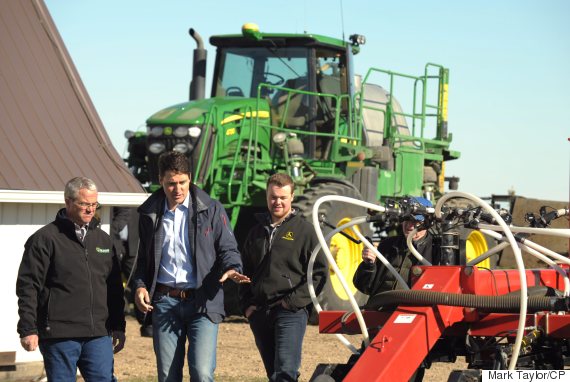 Prime Minister Justin Trudeau chats with Rod Lewis and Lewis's son at their Lewis Land Limited farm near Gray, Sask. on April 27, 2017. (Photo: Mark Taylor/The Canadian Press)
Producer Todd Lewis, who showed Trudeau around his family's century-old farm, says carbon pricing has hurt agriculture in other parts of the country. Lewis says farmers know that if they burn fuel, they burn money, so they're always looking for ways to be more efficient and innovative. He says low-carbon agriculture was born in Saskatchewan and farmers deserve recognition for the work they've done. But Lewis says he hosted the prime minister because it's important to have the conversation, or as he puts it, "if you're not at the dinner table, you're probably on the menu, and today we're at the dinner table."
Also on HuffPost