UPDATE - April 27, 2017: All services to Shaw customers were restored as of 6 p.m. ET. The Canada-wide outage was caused by a software failure during an upgrade to the system, the company said on its website.
Whoops!
It looks like Shaw is having a bit of trouble with Internet and Wi-Fi service. And cable. Oh, and home phone services, too.
And it's not just a small part of Canada that's been affected — we're talking an outage in every province where Shaw provides service.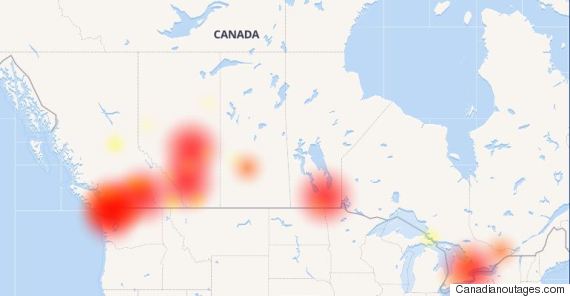 A map of the outages shows that people across the country are being affected. (Photo: Canadianoutages.com/Screengrab)

The telecom company posted to their website shortly before 4 p.m. ET Thursday, apologizing for the outage.
"Some customers nationally may be experiencing an interruption to Internet, Television and Home Phone services. We are investigating the situation and working to restore service as quickly as possible. We apologize for any inconvenience this may cause."
At 4:20 ET they issued an update, saying they don't know when services will be restored.
"Our network technicians are working to restore services as quickly as possible. Currently no ETA. If we get any further information to share we will post another update. Thank you for your patience so far."
We are investigating reports of service troubles. Apologies for any inconvenience this has caused. More info at https://t.co/ByPZIYizGO

— Shaw Help (@Shawhelp) April 27, 2017
People are not impressed, to say the least, with many tweeting their displeasure at having their workday interrupted.
A live look at Shaw internet in western canada : ) #yyc #Alberta pic.twitter.com/vKrs921tSP

— Gumberculeez (@Graham_CGY) April 27, 2017
@Shawhelp And no website. No phones. No Internet. No website. Thx Shaw! Will you refund me my loses?

— SOS Technologies BC (@sosfirstaidbc) April 27, 2017
So Shaw customers are losing internet and tv service nationwide right now. I'm one of them. Big outage. Really annoy. Much lame.

— Chris Brech (@MegamanXGold) April 27, 2017