Canada's defence minister says he regrets claiming he was the "architect" of a major anti-Taliban operation in Afghanistan.
The National Post reports Harjit Sajjan reached out and apologized to Canadian, Afghan and American troops who served during Operation Medusa, a crucial battle in September, 2006, that sought to drive the Taliban out of the Panjwayi district in Kandahar province.
Sajjan, a veteran of three combat tours in Afghanistan, was in New Delhi earlier this month speaking to the Observer Research Foundation when he made the remarks.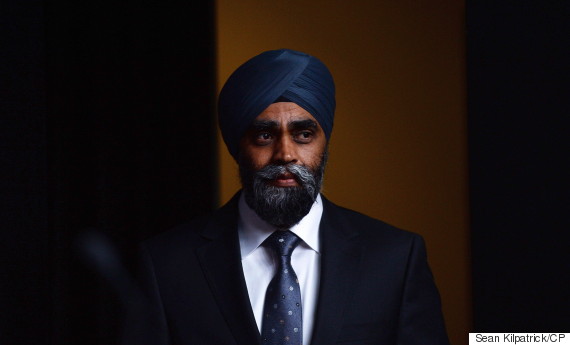 Defence Minister Harjit Sajjan is a veteran of three combat tours in Afghanistan. (Photo: The Canadian Press)
"Ladies and Gentlemen, I am no stranger to conflict," Sajjan told the audience, according to a transcript of his speech on the defence department's website.
"On my first deployment to Kandahar in 2006, I was the architect of Operation Medusa where we removed 1,500 Taliban fighters off the battlefield…and I was proudly on the main assault."
"I regret that I didn't say this then."
Some retired members of the armed forces interviewed by the newspaper said Sajjan was effective as an intelligence officer but described his "architect" comment as a "bald-faced lie" and "really quite outrageous."
Sajjan told HuffPost Canada in a statement Friday he did not mean to diminish the role of any armed forces members and leaders.
"Every military operation our Forces undertook in Afghanistan, including Operation Medusa, relied on the courage and dedication of many individuals across the Canadian Forces," he said.
"What I should have said was that our military successes are the result of the leadership, service and sacrifice of the many dedicated women and men in the Canadian Forces. I regret that I didn't say this then, but I want to do so now."
Praise for intelligence work
Sajjan was lauded, however, for his intelligence work during Operation Medusa, when he was a reserve officer with the military. On the day he was sworn in as defence minister, the National Observer published an article on him that included a letter of praise from David Fraser, a now-retired Canadian commander who led NATO into southern Afghanistan 11 years ago.
"Through his courage and dedication, Major Sajjan has single-handedly changed the face of intelligence gathering and analysis in Afghanistan."

"[H]is analysis was so compelling that it drove a number of large scale theatre-resourced efforts, including OPERATION MEDUSA... that resulted in the defeat of the largest TB cell yet identified in Afghanistan, with over 1500 Taliban killed or captured."

"I rate him as one of the best intelligence officers I have ever worked with."
Sajjan told HuffPost Operation Medusa was successful thanks to Fraser's leadership as well as "the extraordinary team" he worked with.
The operation was Canada's "largest combat operation in more than 50 years," according to Veterans Affairs, and involved more than 1,000 Canadian Armed Forces members. Twelve Canadian soldiers and three Afghan troops died during the effort.
With files from The Canadian Press
Also on HuffPost
Current MPs With Military Experience (2016)