Poor, poor Diddy.
Shortly after arriving at the 2017 Met Gala with partner Cassie, the music heavyweight was so pooped from all the festivities that he had to get some rest.
But where does one take a quick snooze at an event like the Met you may ask?
Well, when you're Sean Combs, it can literally be wherever you want.
"I was getting tired so I laid down on the stairs!!!" the 47-year-old tweeted.
I was getting tired so I laid down on the stairs!!! #METGALA pic.twitter.com/VvIePzdpPG

— Sean Diddy Combs (@diddy) May 2, 2017
He later explained that his outfit, an apparent cape overtop a jacket, "pays homage to #CommeDesGarcons as far as the fearlessness and getting out of the box!! That's what we represent!!"
Other people came up with some creative ideas about what else it might represent:
lmaooo yall werent kidding about diddy wearing the windows 98 screensaver pic.twitter.com/yq3UQXJGyu

— desp (@bigracks) May 2, 2017
And while her man was taking a well-deserved break from the spotlight, singer Cassie posed for the cameras, looking stunning in a On Aura Tout Vu gown, paired with Christian Louboutin shoes and a bold Rinaldy A. Yunardi ear cuff, according to Just Jared.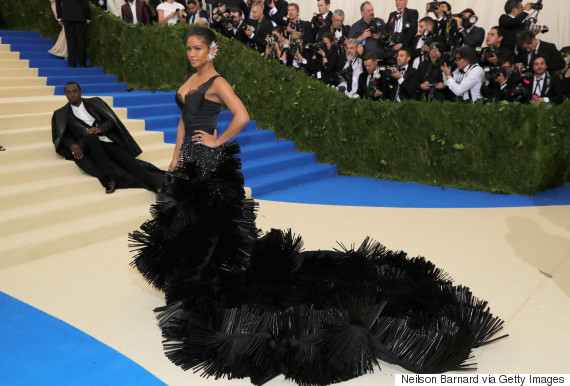 Keep living your best lives, you two.
Also on HuffPost