Wearing nothing on her head besides a crystal headband, Bamberger celebrated both her union and her baldness with friends and family during her nuptials back in mid-October 2016, and her followers loved her look.
"What a beautiful alopecia bride!" one person wrote. "Congratulations."
"Sooooo beautiful inside and out... stunning!!" added another.
But her journey to becoming fully confident wasn't always easy.
The now-27-year-old admits that when her ailment first struck, she wore wigs and hats to cover her head. But during her university years, she decided to forego the cover-ups and embrace her new normal.
"If people were staring, I would stare back," she told Health in April. "If you're going to go out bald, you have to have the confidence to own it."
"I model acceptance. I model the ability to show your inner beauty, and that you don't necessarily need all of this to have all of that," she said in a video posted to Instagram in late February. "When I lost my hair, I was so focused on what I had lost, that I hadn't necessarily realized what I had gained. I had gained the ability to finally love myself ... No one should ever be alienated because of the way that they look."
Bamberger's openness to sharing her life with others through social media is not only inspiring — it's necessary. And hopefully it will help motivate women dealing with alopecia or other forms of hair loss to also feel beautiful and confident.
Thankfully, the southern California native isn't the only person creating awareness for women with baldness.
"It can be a traumatic experience, and these women are bald for years, or perhaps for the rest of their lives, and often undergo painful treatments (injections in their skull, for example) before they start to accept their situation, and themselves," noted henna artist Olivia Darwin, who worked on the shoot.
But despite the obvious hardships of dealing with alopecia, Bamberger has some encouraging words for anyone who hasn't yet embraced their looks.
What an inspirational lady!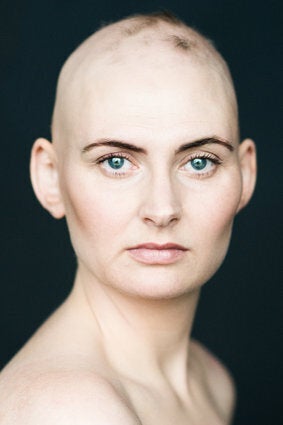 Alopecia Photo Series That Redefines Femininity