Pet rescuers in England found a 12-year-old dog abandoned in a field last week, alongside a heartbreaking note explaining that her owner had moved to Canada and current caretaker was not up to the task of keeping the dog.
Employees at the South Yorkshire Pet Ambulance came across the dog, named Tessa, at 5 a.m. on April 22.
Tessa was tied up and soaking wet, lying in the grass at a local flea market next to a pile of her belongings.
"The dog 12-year-old Tessa is not my dog...My neighbor asked me if I would take charge of the dog as my neighbor planned a new life for herself in Canada. Reluctantly I said yes," the note read. "My neighbor was happy thinking Tessa is in good hands...But I don't need a dog."
The note also listed details about Tessa, including the fact she likes to drink coffee and tea.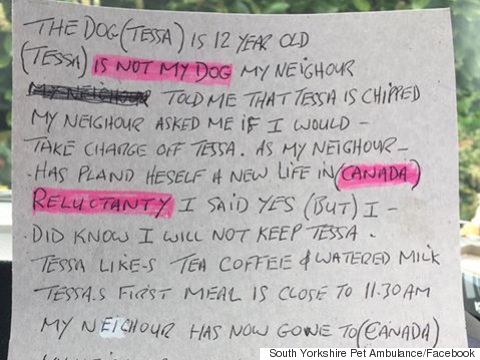 The note found alongside the abandoned dog. (Photo: South Yorkshire Pet Ambulance/Facebook)
In an updated post to Facebook last week, the rescue group said they tracked down the man who abandoned Tessa, calling him a "scumbag."
The group says Tessa is now in good hands and is ready for adoption.
Learn more about Tessa in the video above.
Also on HuffPost
Photo gallery
Siberian Tigers And Dogs Are Best Friends
See Gallery