Sorry, babies. No matter how you slice it, these puppies are now the cutest cake smashers we've ever seen.
The Edmonton Humane Society celebrated its 110th birthday over the weekend, and invited at least four puppies to dig into a giant dog-friendly cake as part of the festivities.
"Our pups loved it," the shelter said in a Facebook post.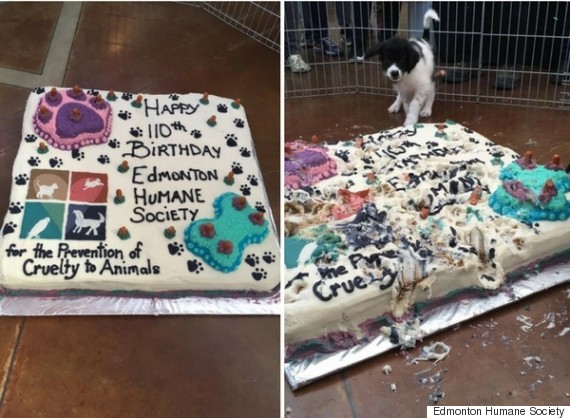 In just a matter of minutes, the puppies did a number on the cake. (Photo: Edmonton Humane Society/Facebook)
But perhaps an even better surprise for these pups? They were all adopted into new homes later that day.
Edmonton's Doggy Style Deli made the cake and the Humane Society said most of the dogs at the shelter were offered a slice once the puppies were done with their trouncing.
The City of Edmonton has declared April 29 Edmonton Humane Society Day, as a way to honour the shelter's dedication to animal welfare.
Watch these adorable dogs destroy the cake in our video above.
Also on HuffPost
UNDERWATER PUPPIES by Seth Casteel