The annual Met Gala is one of fashion's biggest nights, and this year's edition did not disappoint. Here's a round-up of some of the looks that stood out for us: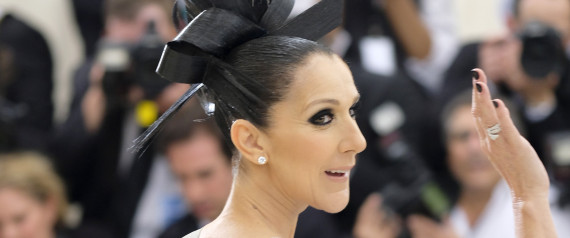 It was Céline Dion's first Met Gala ever, and we hope it's not her last, 'cause she killed on the red carpet.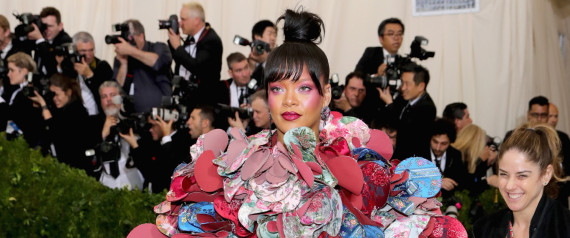 Rihanna is one of very few celebs who can effortlessly pull off almost any look. And she's done it again at Monday night's Met Gala.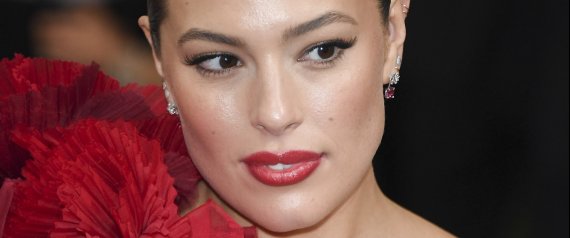 When the Costume Institute Gala calls for the "Art of The In-Between," you know you're going to find yourself looking at some weird and wonderful stuff.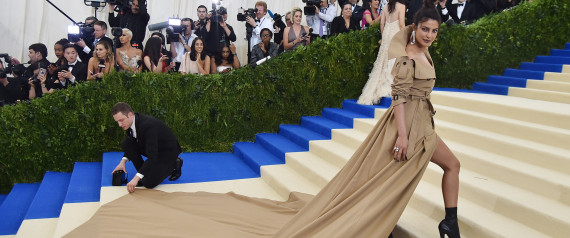 Trust us when we say that out of all the Mondays on the yearly calendar, the first Monday in May is the most famous.
Stay on top of the trends.
Get the biggest lifestyle news sent to your inbox.


More From The Met Gala
Sarah Paulson's Expression When She Sees Madonna At Is Priceless
Canadian-U.S. Relations Appear Just Fine On Met Gala Red Carpet
All Eyes Were On Zendaya's Luxurious 'Fro At The Met Gala
Diddy Was So Pooped From The Met Gala, He Had To Lie Down
Also on HuffPost
YAS: Rihanna in Comme des Garçons

Neilson Barnard via Getty Images

YAS: Celine Dion in Versace

John Shearer via Getty Images

Neilson Barnard via Getty Images

YAS: Kim Kardashian in Vivienne Westwood

Dimitrios Kambouris via Getty Images

ON THE FENCE: Jennifer Lopez in Valentino

Neilson Barnard via Getty Images

YAS: Gigi Hadid in Tommy Hilfiger

John Shearer via Getty Images

YAS: Halle Berry in Atelier Versace

Neilson Barnard via Getty Images

HUH: Kendall Jenner in La Perla

Neilson Barnard via Getty Images

HUH: Emily Ratajkowski in Marc Jacobs

Neilson Barnard via Getty Images

YAS: Zoe Kravitz in Oscar de la Renta

John Shearer via Getty Images

YAS: Ashley Graham in Comme des Garçons

Neilson Barnard via Getty Images

YAS: Selena Gomez in Coach

John Shearer via Getty Images

HUH: Kylie Jenner in Atelier Versace

Neilson Barnard via Getty Images

YAS: Priyanka Chopra in Ralph Lauren

John Shearer via Getty Images

HUH: Mary-Kate and Ashley Olsen

Neilson Barnard via Getty Images

YAS: Rita Ora in Marchesa

Neilson Barnard via Getty Images

Neilson Barnard via Getty Images

YAS: Grace Hartzel in Dior

Neilson Barnard via Getty Images

YAS: Katy Perry in Maison Margiela "Artisanal"

Neilson Barnard via Getty Images

HUH: Gwyneth Paltrow in Calvin Klein

Jamie McCarthy via Getty Images

YAS: Lily Collins in Giambattista Valli

Neilson Barnard via Getty Images

YAS: Bella Hadid in Alexander Wang

John Shearer via Getty Images

YAS: Lily Aldridge in Ralph Lauren Collection

George Pimentel via Getty Images

YAS: Pharrell Williams and Helen Lasichanh in Comme des Garcons

Dia Dipasupil via Getty Images

YAS: Tracee Ellis Ross in Comme Des Garçons

Neilson Barnard via Getty Images

HUH: Gisele Bundchen in Stella McCartney

Venturelli via Getty Images

YAS: Dakota Johnson in Gucci

Neilson Barnard via Getty Images

HUH: Lena Dunham in Elizabeth Kennedy

Neilson Barnard via Getty Images

YAS: Cara Delevingne in Chanel

John Shearer via Getty Images

YAS: Zendaya in Dolce & Gabbana

Dimitrios Kambouris via Getty Images