ALVENA, Sask. — Saskatchewan Conservation says hunters who left a pregnant moose dead in a field northeast of Saskatoon could face charges.
Kerry Wrishko, an inspector with the Ministry of Environment's conservation service, says it's believed the moose was shot on April 24 on private land about 60 kilometres northeast of Saskatoon.
He says those responsible could be charged with hunting out of season and wasting meat.
SaskTip, a charity group, posted a photo on its Facebook page showing the dead moose cow and calf. Warning: Photo is graphic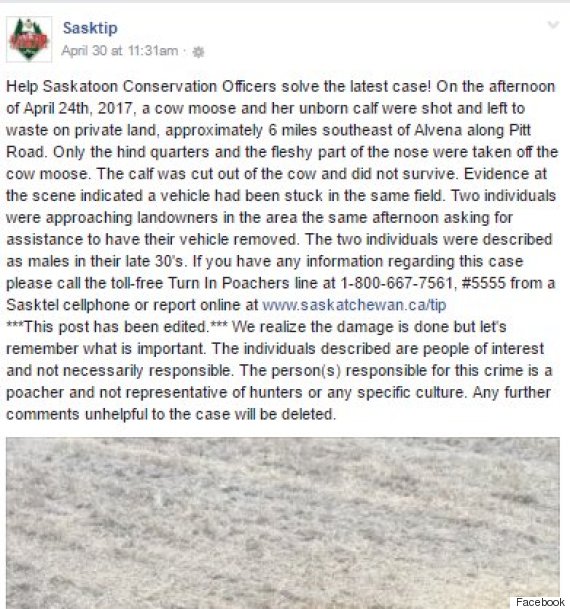 Charity group SaskTip posted a photo on its Facebook page (screenshot has been cropped due to graphic photo)
It said in its post that says only the hind quarters and fleshy part of the nose were taken off the cow and says the calf was cut out of the cow's body and did not survive
Wrishko says conservation officers determined that a vehicle had been stuck in that same field.
"The only lead we have right now is because it was obvious in that field there was a truck that had been stuck and somebody had seen two people walking, looking for help to get them unstuck. And so we'd like to talk to those people who were stuck and see whether they were responsible for that moose or if they saw something, you know we're not sure.''
Anyone with information on this or any other poaching incident was asked to call the province's toll-free Turn in a Poacher line at 1-800-66-7561 or report online.
"I guess the situation at hand is with the unborn calf moose, is what has more people upset because of the calf moose that was killed as a result of its mother being killed.''
— Kerry Wrishko,

Ministry of Environment inspector
"We did retrieve a slug from the animal, the bullet, so we have, if we find a suspect and we find a gun, we'll be able to match the gun with the slug in the animal,'' Wrishko said.
He also said this is getting more attention because of the calf, which would have been near full term.
"Poaching occurs potentially year round, there's no doubt. I guess the situation at hand is with the unborn calf moose, is what has more people upset because of the calf moose that was killed as a result of its mother being killed.''