A Toronto Catholic school teacher who students said talked about her sex life and said "kiss my black ass" has been found guilty of professional misconduct.
Leanora Brown made several inappropriate and sexually explicit comments to her students between January 1 and March 5, 2015, according to a notice of hearing.
Two former students who appeared before an Ontario College of Teachers tribunal on Tuesday said that the religion teacher often made them uncomfortable with her statements, according to the National Post.
"I felt like she wasn't qualified to be a teacher," one said.
Ontario teacher is guilty of misconduct for going on tirades about her sex life, putting her legs behind her head https://t.co/rYfcHLkZm4 pic.twitter.com/NNoCtSxv1I

— Victor Ferreira (@VicF77) May 3, 2017
"That's not something you're supposed to say to a student in a religion class."
A webpage for Marshall McLuhan Catholic Secondary School in midtown Toronto lists a Leanora Brown as a religion teacher.
According to the notice of hearing, she swore at her students, called them losers, "white trash" and "fucking bitch" in class.
Students also heard sexual comments about Brown's mother, including that she had 20 kids and was horny and beautiful.
She also told them about women who were "sluts," and said "if a slutty girl or horny girl wants to have sex with you, you should fuck her well and leave her in a wheelchair for two days."
One day she showed them her flexibility by putting her legs over her head and doing somersaults instead of teaching.
"I felt like she wasn't qualified to be a teacher."
The Ontario College of Teachers told HuffPost Canada that Brown must complete a course on professional boundaries with students and appear before a disciplinary panel to receive a reprimand if she wants to teach again.
The Post reports that Brown took a leave of absence from teaching after the 2015 allegations and is now retired.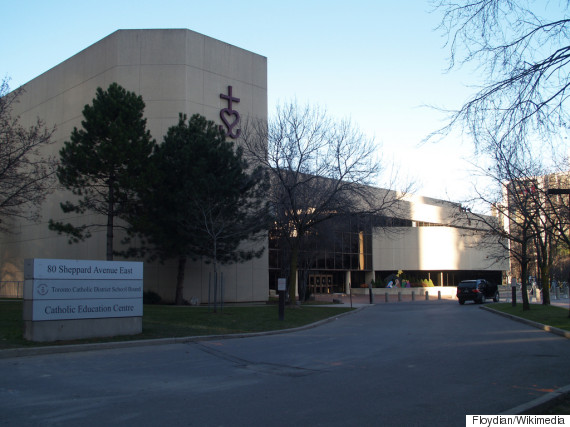 The Toronto Catholic District School Board headquarters in Toronto, Ont.
A Marshall McLuhan teacher named Leonora Brown has a very good rating on Rate My Teachers.
Brown was interviewed in 2014 after a former friend was sentenced for stealing her identity to get a nearly $300,000 mortgage.
Deborah Longmore was given 15 months probation. That sentence angered Brown, who said her credit had been ruined by the fraud.