Conservative MP Chris Warkentin probably should have seen this one coming.
Warkentin rose in question period Wednesday to ask about the federal ethics commissioner's investigation into Prime Minister Justin Trudeau's use of a private helicopter during his visit to the Aga Khan's private Bahamas island.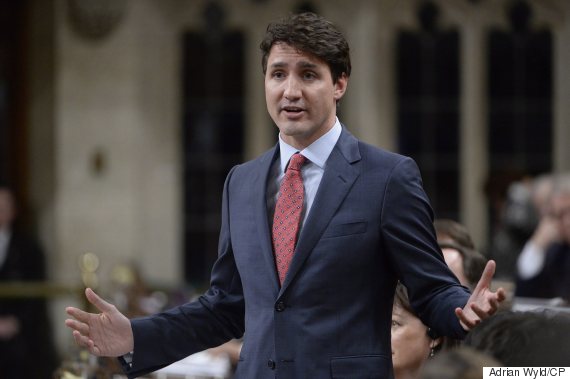 Prime Minister Justin Trudeau speaks in the House of Commons on May 3, 2017. (Photo: Adrian Wyld/The Canadian Press)
The Tory MP noted in his preamble that he knows Trudeau's staff "tell him that he should only say that he's happy to meet with the ethics commissioner and answer any questions she might have."
But Canadians, Warkentin said, deserve answers. So, he pressed on.
"I have a simple question. How many times has the prime minister been questioned by investigators? The question is simple. How many times?" he asked.
Trudeau, who answered all opposition questions in the House, opted to stick to the script.
"As I've said many times, I'm happy to work with the ethics and conflict of interest commissioner to answer any questions that she might have," Trudeau said.
A popular refrain
The prime minister has used that line, or a slight variation of it, at least 10 times in the House since February.
It's also the way Liberals responded to an order paper question from Warkentin asking how many times Trudeau has sat down with Ethics Commissioner Mary Dawson since November 2015.
Warkentin tweeted a photo of the response — including that familiar line — on Tuesday.
How often has @JustinTrudeau met with the Conflict of Interest and Ethics Commissioner?#accountability #openness #transparency#cdnpoli pic.twitter.com/CU1wFvEl0O

— Chris Warkentin (@chriswarkentin) May 2, 2017
Warkentin later told The Canadian Press that the answer to his order paper question was "completely ridiculous" and lacked "any form of transparency."
"We're not asking in-depth details about the investigation," Warkentin said. "We're simply asking (whether) or not the prime minister has met with the ethics commissioner."
Dawson's office told The Canadian Press it could not provide any details about meetings she may have had with Trudeau — or any public officer holders — as they are confidential.
It was revealed last week that the ethics watchdog cleared Trudeau for his controversial participation in two private, so-called "cash-for-access" fundraisers last year.
With files from The Canadian Press
Also on HuffPost
Trudeau Government's Broken Promises (So Far)