A Conservative leadership candidate's longshot private member's bill to privatize the Canadian Broadcasting Corporation has been overwhelmingly rejected by the House of Commons, including members of his own caucus.
Brad Trost's Bill C-308 was defeated by a vote of 260-6 at second reading Wednesday. Just five other members of Parliament — all of them Tories — backed the Saskatchewan MP's bill: Ontario MP Harold Albrecht, Saskatchewan MP David Anderson, and Alberta MPs Blake Richards, Arnold Viersen, and Kevin Sorenson.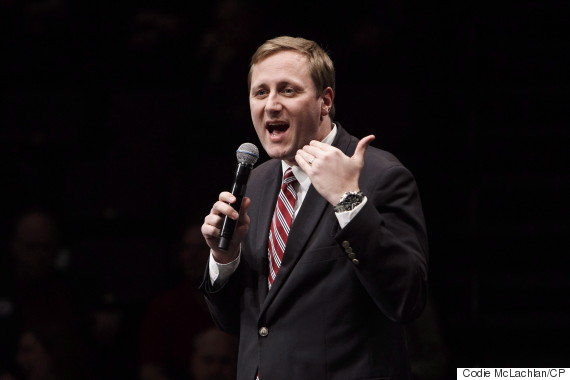 Brad Trost speaks at a debate in Edmonton on Feb. 28, 2017. (Photo: Codie McLachlan/The Canadian Press)
None of the MPs who voted in favour of the so-called Canadian Broadcasting Corporation Privatization Act have endorsed Trost in the leadership race or his rival, Ontario MP Kellie Leitch, who is calling for the CBC to be "dismantled."
Albrecht and Richards have endorsed Ontario MP Erin O'Toole, while Viersen, Richards, and Sorenson have sided with Saskatchewan MP Andrew Scheer.
Many of the contenders for the top Tory job either skipped the vote or were otherwise not in the House, including O'Toole, Scheer, Leitch, Ontario MPs Michael Chong and Lisa Raitt, as well as Alberta MP Deepak Obhrai.
Bernier scores applause
Quebec MP Maxime Bernier, now considered a front-runner in the race, scored some applause by voting against Trost's bill. Though Bernier has pledged to privatize Canada Post and major airports, the libertarian says he wants to "refocus" the mandate of the public broadcaster and stop CBC from competing for advertising dollars with private outlets.
Fellow Quebecer Steven Blaney also voted to kill the bill, standing to make sure he was recorded as a nay.
In a lengthy interview with HuffPost Canada in March, Trost — who promotes himself as "100 per cent Conservative" — said that his calls to privatize the CBC are "red meat" to rank-and-file Tories.
"Ask me why any Conservative believes there should be a state-run broadcaster," Trost said.
Story continues after slideshow:
The argument that a public broadcaster is needed to help Canadians better understand their country and culture doesn't carry weight any more, Trost suggested at the time.
"What little support there is still left in the Conservative Party for the CBC is generational. It tends to be for the radio, it tends to be people who remember the two-station era. It's not necessary," he said.
"Culture is not something the government produces. It's something the people produce and it's something that happens organically. Yes, your political institutions help to form it but I don't see why we need to have a special, $1-billion a year subsidy to do something that's already happening organically."
But when Trost's bill came up for debate in February, Tory MP Kevin Waugh, a former CTV sportscaster for nearly four decades, gave an impassioned defence of keeping the CBC as a Crown corporation.
Tory backbencher's passionate defence of CBC
"Privatization of the CBC, as we all know, could really save the federal government well over $1 billion, $1.2 billion and more. But let's ask this question before we talk about the money: what would we lose?" Waugh asked.
"We would most certainly lose local broadcast news in many remote regions of this country, plus minority language communities. Believe me, the private industry has no appetite, zero, to serve these regions in our country. I know because I have worked for them."
Waugh also said the CBC "excels" in showcasing Canadian culture and art, pointing to last summer's national broadcast of what may be The Tragically Hip's final show as "a prime example of Canadian culture at its best."
Canada is a big country with enriching stories that need to be told, Waugh said at the time.
&nbsp
Interim Tory Leader Rona Ambrose, who urged Prime Minister Justin Trudeau in November not to give the CBC $400 million in additional funding so that it could go ad-free, also voted against C-308 Wednesday.
In total, 60 Tory MPs voted to kill Trost's bill.
The next leader of the Conservative Party will be revealed May 27.