There's been plenty of discussion over the past several years about the wage gap between men and women in the workplace, but apparently one Toronto company didn't get the message that it's something that should be changed.
In a job posting by recruiting company Delta Staffing Services that went viral, an ad reads: "We currently need a few ladies and a few guys .. Pay is $11.50 ladies, $12 guys."
Though the posting has now been changed to read "Pay is $11.50+," according to a Google review, that still doesn't specify whether or not women are being paid less than men.
In an interview with CityNews, a manager with Delta Staffing Services said the ad had been posted incorrectly by an intern, and the difference in wages was meant to reflect different jobs on offer.
"It was a typo, and the person who posted the ad wasn't being detailed about it," said the manager, who did not reveal their name.
A previous version of the job posting also specified that the company was looking to hire only those from the "Asian and European community."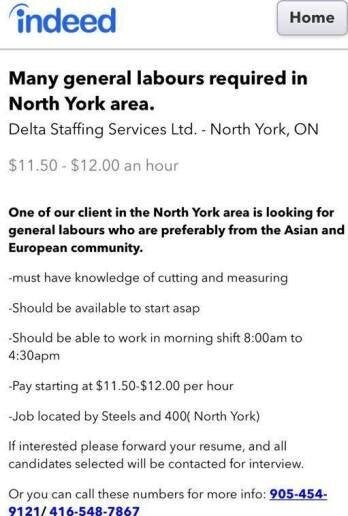 The full sentence, which was later removed, read, "One of our client [sic] in the North York area is looking for general labours [sic] who are preferably from the Asian and European community."
A March 2017 report from StatsCan revealed that Canadian women made $0.87 for every $1 earned by a man.
Several factors, including a low representation of women in high-paying industries and over-representation in low-paying jobs, were to blame. The responsibility for child rearing, which still falls primarily to women, was also a factor.
"Mothers typically earn less than both women without dependent children and fathers. Previous research demonstrates that this 'motherhood penalty' exists at a given point in time and persists over the life course," the report reads.
So while things might be improving, it looks like there's still a long way to go.
Delta Staffing Services didn't immediately reply to HuffPost for a comment.