When we were kids, we had Pop-Tarts.
When we were teens, we had Toaster Strudels.
And now as adults, we literally have nothing.
The days of combining two breakfast staples into one seem to be long behind us, and honestly, we miss that. Where is the efficiency in breakfast these days? Gone, it seems. Now, most of us just pump coffee through our veins to get through this thing we call life.
But it seems like one Colorado bagel chain is saying, "enough is enough." Einstein Bros.' is bringing back the two-in-one breakfast and it's combining the two food groups we love most: carbs and coffee.
World, meet the Espresso Buzz bagel from Einstein Bros.', the dream breakfast we've all been waiting for.
The supposedly first-ever caffeinated bagel was released on Friday in the U.S., and it already has the Internet buzzing.
These caffeinated bagels let you have your coffee and eat it too

— Saw BoYz Dembow (@juniorfresh02) May 4, 2017
Just found they have caffeinated bagels and i can't think of anything in life i need more that

— Blaise Martineau (@blaisem21) May 5, 2017
@mashable This made my day! Guess I have a new breakfast meal to add into the rotation.

— Doug Jossem (@DougJossem) May 4, 2017
New caffeinated bagels at @EinsteinBros 😎🙌 pic.twitter.com/lnANAzBFs8

— Mountain Man Jay (@955MMJ) May 4, 2017
"More than 150 million Americans over the age of 18 drink coffee every day and, yet with 65 per cent of all coffee consumed during breakfast, a staggering 31 million people skip out on the day's most important meal," read a press release sent to Teen Vogue from Einstein Bros..
So obviously this was an important carb to bring into existence. After all, it's saving coffee drinkers' breakfasts, one bagel at a time.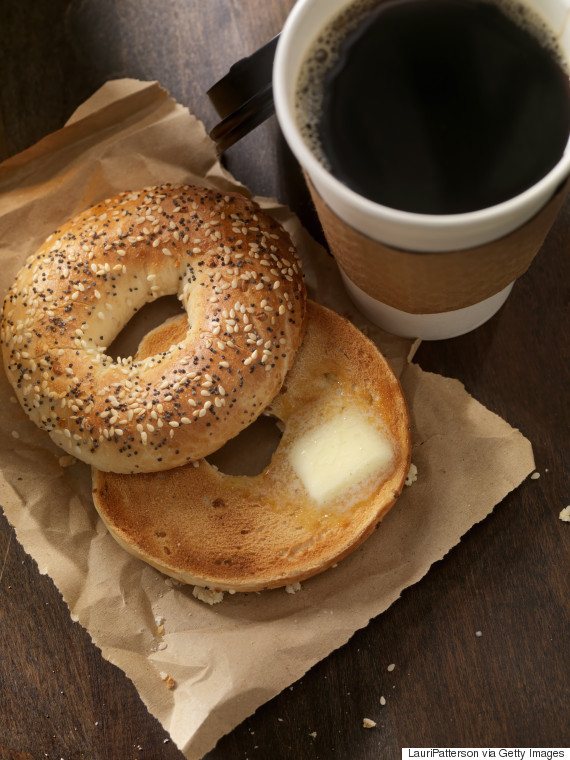 But some coffee lovers are saying not so fast, Einstein Bros.
There are 32 milligrams of caffeine baked into the coffee-cherry flour bagel. Mayo Clinic reports that a one-ounce espresso shot typically has anywhere from 47 milligrams to 64 milligrams of caffeine, while a typical eight-ounce cup of coffee has 95 milligrams to 165 milligrams of caffeine. So if you drink one cup of coffee a day, you'll need to eat nearly three bagels to get your caffeine fix.
Which might be pushing it.
And according to CBS 4 WCCO Minnesota in the video above, the caffeine found in the Espresso Buzz is a third of what you could find in a can of soda.
Early reviews of the bagel have some saying it's like eating "chewy coffee" and that it's "insanely bitter."
Yikes.
But here's the good news: apparently the bagel has 13 grams of protein and is loaded with both iron and magnesium, so you bet this little wonder is (somewhat) a part of a balanced and nutritious breakfast.
Other new bagels released as part of the chain's new Boosted Bagel series include cherry chia and savoury parm.
We will take a dozen. Of each. Thank you, carbs.
Also on HuffPost
Nemo's great uncle/Flickr

BonzoESC/Flickr

barry.pousman/Flickr

melissa.delzio/Flickr

adactio/Flickr

Mel B./Flickr

Chef Cooke/Flickr

orijinal/Flickr

BXGD/Flickr

ShellyS/Flickr

bionicgrrrl/Flickr

woodleywonderworks/Flickr

dreamcat115/Flickr