Yesterday in the U.S., the Republicans passed a vote in the House to repeal and replace the the Affordable Care Act (ACA) for the American Health Care Act (AHCA).
Though the bill still has to be passed into law (and there's some doubt about that happening), it has plenty of Americans worried about their health care coverage — more, in fact, than might be assumed upon first glance.
According to Money magazine, under the AHCA, insurance companies will be able to charge people with pre-existing conditions more for their health insurance, an act currently banned by the ACA.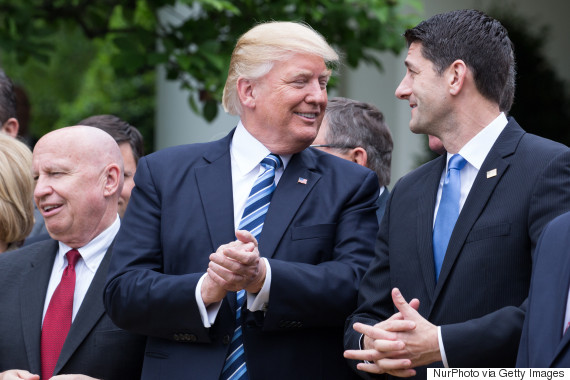 House speaker Paul Ryan and president Donald Trump have promised to keep those provisions, Quartz reports, with an amendment stating "nothing in this Act shall be construed as permitting health insurance issuers to limit access to health coverage for individuals with pre-existing conditions." Individual states, however, have the ability to let insurance companies decide for themselves about patients with pre-existing conditions, including determining what those conditions might be.
The Kaiser Family Foundation, a non-partisan not-for-profit organization focusing on health issues, did an analysis of the various ailments and even professions and hobbies that can get people declined by a private insurance company. According to their study, the conditions generally considered to be "pre-existing" by insurers include the following:
AIDS/HIV
Alcohol abuse/ Drug abuse with recent treatment
Alzheimer's/dementia
Arthritis (rheumatoid), fibromyalgia, other inflammatory joint disease
Cancer within some period of time (e.g. 10 years, often other than basal skin cancer)
Cerebral palsy
Congestive heart failure
Coronary artery/heart disease, bypass surgery
Crohn's disease/ ulcerative colitis
Chronic obstructive pulmonary disease (COPD)/emphysema
Diabetes mellitus
Epilepsy
Hemophilia
Hepatitis (Hep C)
Kidney disease, renal failure
Lupus
Mental disorders (severe, e.g. bipolar, eating disorder)
Multiple sclerosis
Muscular dystrophy
Obesity, severe
Organ transplant
Paraplegia
Paralysis
Parkinson's disease
Pending surgery or hospitalization
Pneumocystic pneumonia
Pregnancy or expectant parent
Sleep apnea
Stroke
Transsexualism
In the past, according to Quartz, other conditions that haven't been covered included prior C-sections (because of the potential for future health complications), and sexual assault and domestic violence (thanks to, among other things, their association with mental health issues and substance abuse).
The Kaiser Family Foundation also notes there are plenty of other conditions that are passed under scrutiny and might incur further charges or straight out rejections for that particular ailment — and among these are some serious surprises.
Acne
Allergies
Anxiety
Asthma
Basal cell skin cancer
Depression
Ear infections
Fractures
High cholesterol
Hypertension
Incontinence
Joint injuries
Kidney stones
Menstrual irregularities
Migraine headaches
Overweight
Restless leg syndrome
Tonsillitis
Urinary tract infections
Varicose veins
Vertigo
Before we get too smug about it, it must be noted that Canadian insurance companies have similar lists of pre-existing conditions that prevent people from readily getting extra coverage for their needs.
There are also many criticisms of the Canadian system, including long wait times in emergency rooms and for specialists, as well as limitations on mental health care and privatized options for those who can afford it.
Canadian insurance companies have similar lists of pre-existing conditions that prevent people from readily getting extra coverage for their needs.
The major difference, however, is that the universal health care offered in Canada covers all medically necessary services, which, according to Health Canada, are "hospital services provided to in-patients or out-patients, if the services are medically necessary for the purpose of maintaining health, preventing disease or diagnosing or treating an injury, illness, or disability; and medically required physician services rendered by medical practitioners."
So while those who have pre-existing conditions might have difficulty getting insurance above and beyond what's offered, they will get seen by doctors when their health is in jeopardy — and they won't be walking away with a bill.