OTTAWA — The Liberal government has set up a showdown with the Senate over whether workers should be required to unionize through a secret ballot.
Labour Minister Patty Hajdu told the Commons on Friday that the government won't agree to changes to one of the Liberal government's first pieces of legislation, Bill C-4, that requires workers to sign unionization cards, known as the card check system, instead of holding a secret ballot in order to certify a bargaining unit.
Hajdu said the changes are needed to repair the damage done to labour relations and the union movement.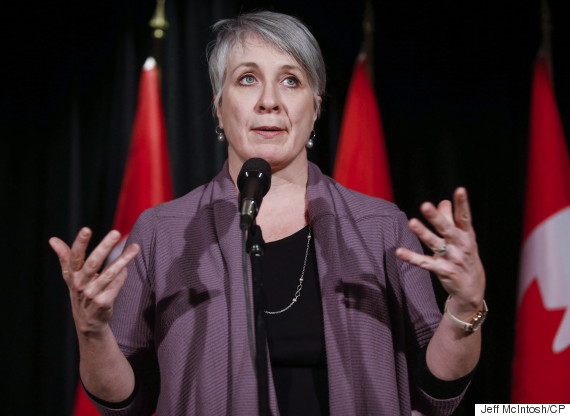 Labour Minister Patty Hajdu speaks to reporters at a Liberal cabinet retreat in Calgaryon Jan. 23, 2017. (Photo: Jeff McIntosh/The Canadian Press)
"What we're talking about are people — people that work in Canada, people that deserve to work in fair, well-compensated, safe spaces and the union movement is critical to ensuring that happens in our country," Hajdu said.
The Liberal stance outraged Conservative MPs who argued the Liberals were acting like "tin-pot dictators" in rejecting the idea of a secret ballot and were pandering to the labour movement — claims Hajdu rejected.
"This is not about workers or unions or improving workplace dynamics or re-balancing the scales, this is about taking power away from workers to give it to powerful interest groups that helped elect this government," said Conservative Pierre Poilievre, who was social development minister when the changes were enacted.
Bill could be left in limbo
The changes to the union certification rules were contained in a private member's bill, C-525, passed under the previous Conservative government. Bill C-4 also ends a requirement that unions publicly post details of their spending approved under a separate private member's bill.
The upper chamber agreed to an end to the financial reporting requirements, brought in through bill C-377, but voted to keep the secret ballot.
A bill can only become law if the House of Commons and Senate agree on the same wording of a piece of legislation.
Traditionally, the Senate would hold its nose and agree to the will of the Commons, even if MPs disagreed with senators, but it's unclear whether the Senate will follow tradition as it becomes more independent. That could leave the bill in limbo between the two chambers indefinitely.
Story continues after slideshow:
The changes would affect the approximately 883,000 workers in federally regulated industries, 200,000 federal government workers, and about 2,500 parliamentary workers.
Supporters of the secret ballot system say it prevents unions from pressuring workers into signing cards, while supporters of the card-check system say it prevents employers from pressuring workers ahead of a vote. Provincially, a secret vote for unionization in the private sector is required by six provinces; two more require it for the provincial public sector.
Between 2004 and 2014, when C-525 was before a Commons committee for study, the industrial relations board dealt with 23 cases involving allegations of intimidation. Only six complaints were upheld: Four were about employer intimidation; the remaining two were situations where two unions were fighting to represent workers and filed complaints against one another.