Fashion might be political, but it also can't be hateful.
E-commerce shop Teespring, which allows users to create and sell T-shirt designs, has removed an offensive T-shirt line after receiving an onslaught of complaints.
The "Black Women Are Trash" shirts, which were created by Twitter user @TrueCharter, went up for sale over the weekend, apparently in response to a woman's "Men Are Trash" shirts, website Bougie Black Girl reported.
His initial tweets promoting the merchandise have since been deleted, and he has made his Twitter profile private since the news broke.
Luckily for us, screenshots exist!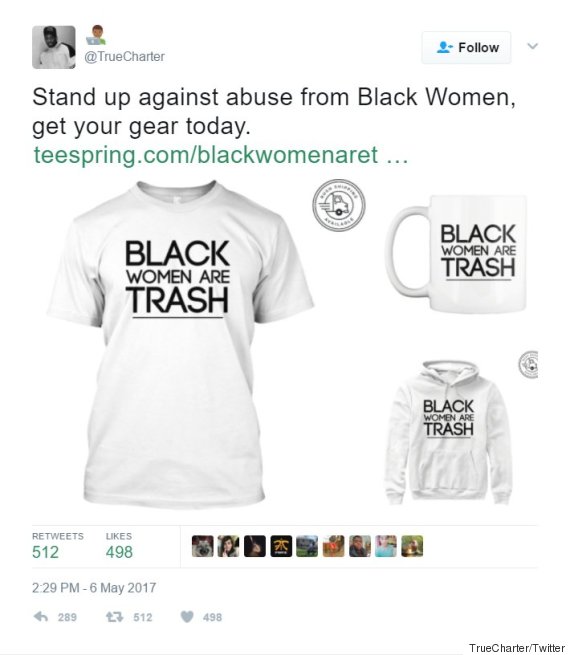 The man even appeared to have so much disdain for black women, that he invited females of other races to join in on the bashing.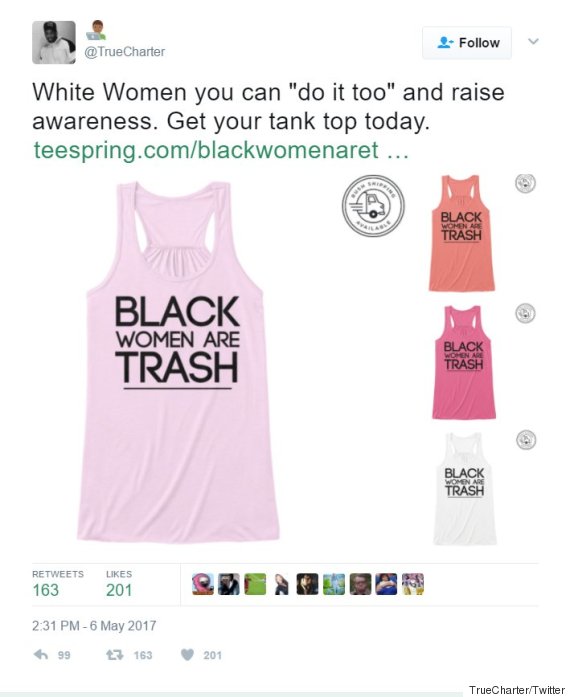 "We'd like to apologize for this offensive content that was posted on the Teespring platform," a Teespring representative told Yahoo Style in a statement Monday. "It does not reflect our views as an organization, and it violates Teespring's acceptable use policies. Our team has removed this item from our site, and we're monitoring closely to take down any other products that violate our content guidelines."
We'd like to apologize for the offensive t's posted on our site. Their content violates our policies and we are working to remove them now.

— Teespring (@teespring) May 9, 2017
Many are applauding the choice to take the apparel off the site, but note how much damage phrases like these can cause.
The "Black women are trash" shirt was removed from @teespring. Thanks to everyone who reported it. :-)

— jamilah

(@JamilahLemieux) May 8, 2017
I'm offended by the "black women are trash" t-shirt. You're talking about my sister, my mother, my friends.

— Ferrari Sheppard (@stopbeingfamous) May 7, 2017
They're both idiotic as fuck, but that one says BLACK women are trash. That's too harsh. https://t.co/cNA7d8lQzV

— Taj Strickland (@BuryMeInSoles_) May 8, 2017
But this isn't the first time Teespring has gotten into trouble for selling offensive clothing.
In 2015, the company caught heat for selling shirts that resembled a rainbow-like Confederate flag, which the creator said was made to "let two images merge in an effort to get some understanding of both."
And while the "Black Women Are Trash" shirts have been removed, the "Men Are Trash" apparel is still up for sale.
It's also important to note that Teespring offers a line of anti-racist shirts, which makes the fact that they approved any of these lines to begin with very strange.
Also on HuffPost
25 of The Smartest Black Women On Twitter