OTTAWA — Disgraced Sen. Don Meredith is resigning from the Senate rather than wait to see if his colleagues expel him for engaging in a sexual relationship with a teenage girl.
The Senate was poised to vote as early as Wednesday on a Senate ethics committee report, which last week concluded that Meredith is unfit to serve as a senator and recommended that the upper house take the unprecedented step of expelling him.
But Meredith pre-empted the vote by announcing his resignation in a statement Tuesday.
Sen. Don Meredith is seen in his lawyer's office in downtown Toronto on March 16, 2017. (Photo: Colin Perkel/The Canadian Press)
"I am acutely aware that the upper chamber is more important than my moral failings," Meredith's statement reads.
"After consulting with my family, community leaders and my counsel over the past several weeks, I have decided to move forward with my life with the full support of my wife and my children. I am blessed to have had their unconditional love and support throughout this ordeal. It is my hope that my absence from the Senate will allow the senators to focus their good work on behalf of all Canadians."
The statement does not explicitly refer to resignation, nor did the Senate have immediate confirmation of his departure. However, Meredith's lawyer, Bill Trudell, confirmed that Meredith had decided to resign.
Had Meredith not agreed to go voluntarily, it's virtually certain his former colleagues would have voted overwhelmingly to give him the boot.
"Good riddance," said Conservative Sen. Denise Batters on hearing about Meredith's resignation.
"This is a constitutional fight in which I will not engage."
The Senate has never expelled one of its members and Meredith's resignation leaves untested the chamber's legal authority to do so.
The Senate has no explicit power to expel a member. But the ethics committee accepted the legal opinion of the law clerk and parliamentary counsel to the Senate that the Constitution confers on the upper house the same privileges enjoyed by the United Kingdom's House of Commons. Since the U.K. Commons can permanently eject a member, they reasoned, so too can Canada's Senate.
In his statement, Meredith says expulsion would have "major implications" for the Senate.
"This is a constitutional fight in which I will not engage."
The committee's recommendation followed an explosive report from Senate ethics officer Lyse Ricard earlier this year.
Don Meredith was named to the Senate by former Conservative prime minister Stephen Harper in 2010. (Photo: The Canadian Press)
Ricard concluded that Meredith, a 52-year-old married Pentecostal minister, had failed to uphold the "highest standards of dignity inherent to the position of senator" and acted in a way that could damage the Senate itself.
She said Meredith began a relationship with a girl when she was just 16, which progressed from flirtatious online chats to fondling, sexually explicit live videos and, eventually, to sexual intercourse — once shortly before she turned 18 and twice after.
Ricard also concluded that Meredith had abused his position as a senator to take advantage of the teen, known only as Ms. M.
Meredith acknowledged the affair, but insisted he did not have intercourse with the girl until after she turned 18. Until now, he had rejected near-universal calls for his resignation from fellow senators.
In addition to Ms. M case, Meredith is under separate investigation by the Senate ethics officer for allegedly sexually harassing and bullying members of his staff.
Meredith was named to the Senate by former Conservative prime minister Stephen Harper in 2010.
Meredith's full letter to the Senate: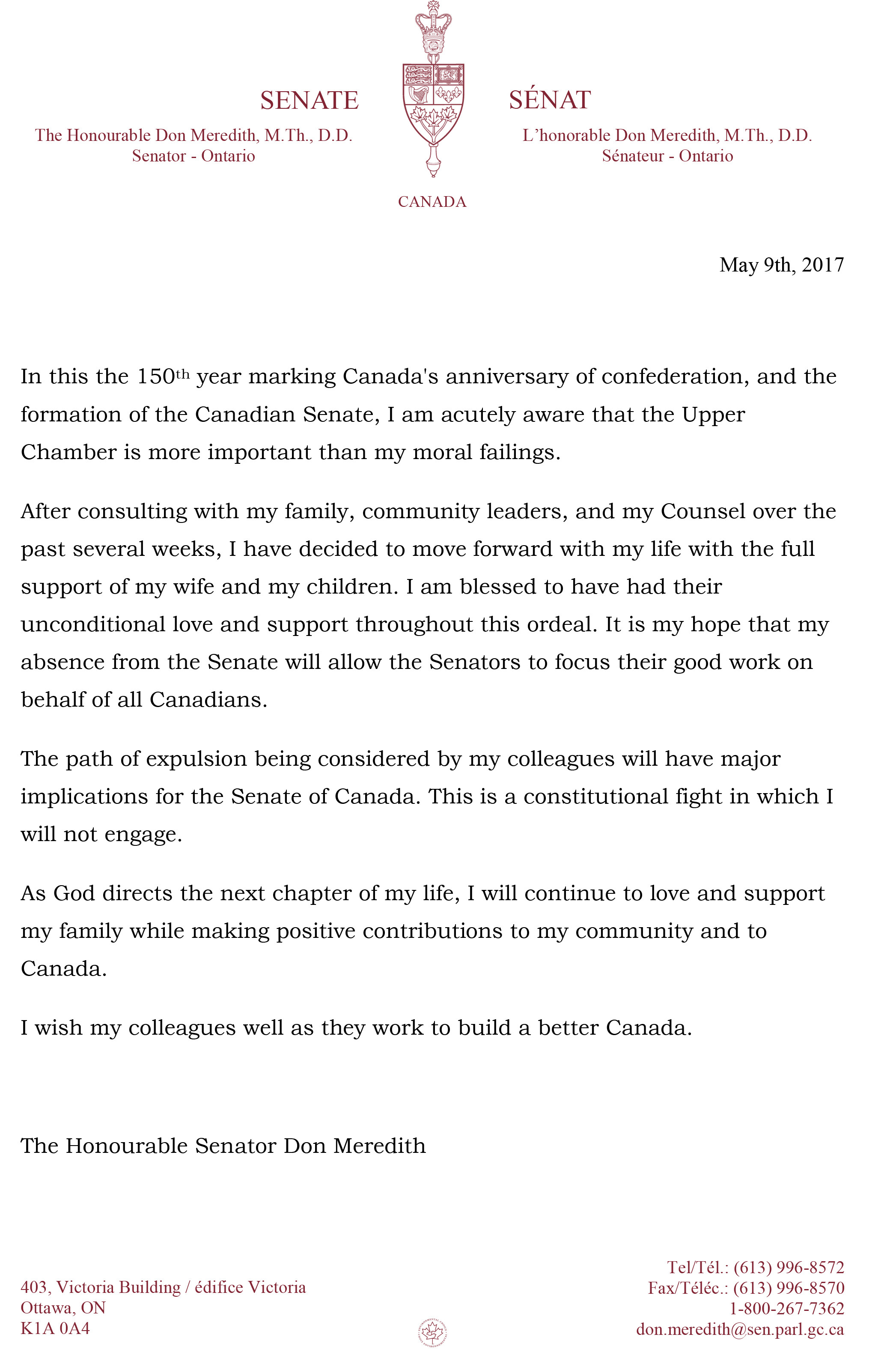 Listen to HuffPost Canada's Politics podcast, Follow-Up, on the workplace harassment allegations against Meredith: