HAMILTON — A home invasion in an otherwise quiet Hamilton neighbourhood left one man shot and fighting for his life, his wife injured and nearby residents aghast at the violence, police and neighbours said on Tuesday.
Police, who had a 15-year-old boy and an 18-year-old man in custody, were hunting for three other suspects in what they said they believed was a targeted attack that occurred shortly after 9 a.m.
Marjo Daniels, who lives a few doors down from the two-storey home where the incident took place, said she was awoken by a neighbour to find the street swarming with first responders.
She said she and another neighbour went over to see what had happened, and were met by a distraught woman who lives in the home with her husband and son. The couple has a renovation business, neighbours said.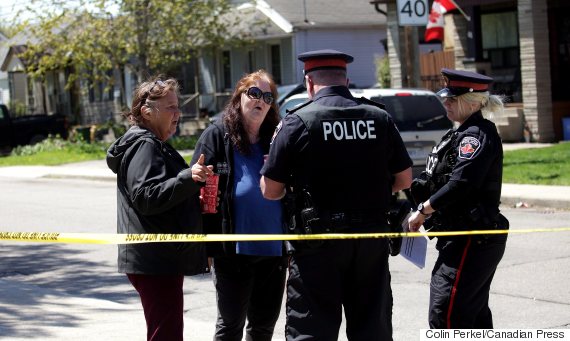 Neighbours Cathy Larocque, left, and Marjo Daniels talk to police about a home invasion in Hamilton, Ont., on Tuesday.
The woman told Daniels she was asleep on the couch when five men burst in through the back of the house.
"They kept asking her to open the safe,'' Daniels said the woman told her.
"They started stabbing him over and over."
They then started beating her, leaving her with swollen lips, sore ribs and the start of a black eye, Daniels said. A teenaged son who tried to intervene was hit in the face with the butt of gun, she said the woman told her.
The woman's spouse then tried to intervene and was shot immediately, Daniels said the woman told her.
"They started stabbing him over and over. They cut his left hand almost to amputation. It was just dangling.''
The victim was ghostly white and had lost a lot of blood when he taken to hospital, the neighbour said.
Police would not give specifics of the injuries but confirmed one man was shot and in life-threatening condition while others were assaulted and injured.
Police say family was targeted
Hamilton police Const. Steve Welton said officers responding to calls of an armed break-and-enter in progress were able to capture two suspects — one a teenager — but three others ran off and were being sought.
"It was a targeted incident,'' Welton said. "It wasn't a random event where someone was randomly choosing homes.''
Welton said the criminal investigation branch was managing the crime scene but said the homicide unit would take over if the man died.
Daniels said the woman told her she refused to open the safe in the home despite the violence visited on the couple, whom she described as people who would give you the shirts off their backs.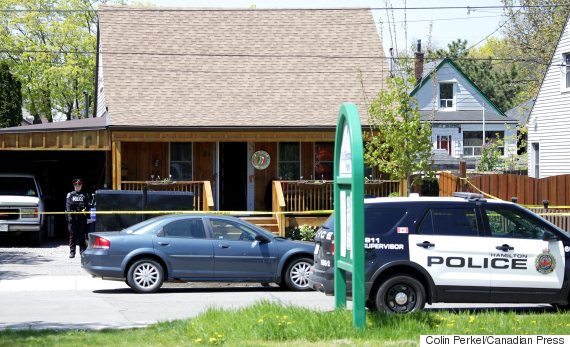 A police officer keeps watch at a home in Hamilton, Ont., on Tuesday, May 9, 2017.
Fellow neighbour Cathy Larocque said she was "very disturbed'' by what had happened in the otherwise quiet neighbourhood.
"Everyone kind of watches out for everybody,'' Larocque said. "It's shocking. It's very shocking."
Daniels agreed the incident was totally out of character for the area.
"This whole neighbourhood is super, super quiet,'' Daniels said. "In 10 years, I've ever never seen anything like this.''
The Most Important Stories Sent To You

'The Daily Brief' connects you with our best stories sent right to your inbox
Also on HuffPost
These Are The 10 States With The Most Gun Violence