There's a wonderful tradition enjoyed by parents of school-aged children across Canada come Mother's Day and Father's Day — unwrap your present and feast your eyes on the hard classroom work of your kids... with a little help from their teachers.
But Grade 1 and Grade 2 students at Albert McMahon Elementary School in Mission, B.C. will be coming up with a different plan, because the school has decided not to include Mother's and Father's Day preparations in the classroom.
In a public post on Facebook, Roy Glebe, a parent at the school, put up a note he received from his child's teacher that stated, "In an effort to celebrate diversity, inclusivity and also nurture our students who are part of non-traditional families, we have decided to encourage these celebrations to take place at home."
"This will be the first year that we don't get gifts crafted with love from our kids, and since we only have one little one now it makes it all that much worse," Glebe noted. "I don't understand why we, as Canadians, need to give up our traditions that have been passed through generations. I welcome all races and ethnicities, but forcing us to give up things that are important to us as Canadians is crap. And it doesn't even have anything to do with religion? You can't celebrate your Mom and Dad?"
The note spread quickly, and many parents took Glebe's side in feeling the decision was unfair. While some parents pointed out that this might have more to do with kids who have only one parent, one teacher weighed in with how she'd always dealt with that in class.
"As a preschool teacher, I have had many experiences with diverse families. I have always encouraged my students to choose a parent/guardian/grandparent or that someone who is special to them on these occasions," she noted. "The love and time these children put into their creations is whole idea of the Mother's and Father's day experience."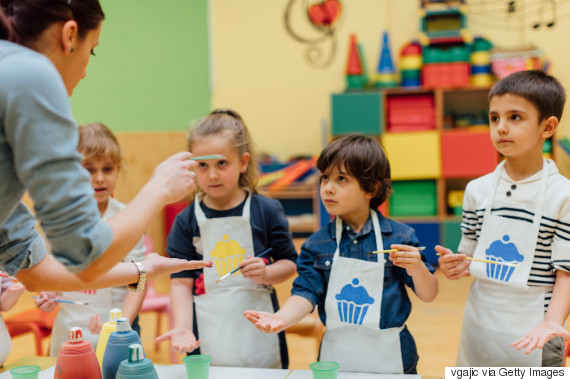 The question of what to do on Mother's Day and Father's Day for students whose family structure doesn't include both a mother and father is one that teachers have been talking about for years.
Welcoming Schools, a site dedicated to exploring diversity in the classroom, has a few suggestions to include all students in the celebrations, like talking about the various other people who are mothers that they know.
As Asaf Rosenheim-Patton, writing on Gays With Kids, advises, "If you are an educator, reach out to all the parents in the class in advance of Mother's Day and discuss your plan for preparing and celebrating the day in your class."
He also recommends that any concerned parent, regardless of whether or not they have a "traditional" family, should take the initiative to reach out to teachers themselves.
"I have always encouraged my students to choose a parent/guardian/grandparent or that someone who is special to them on these occasions." —preschool teacher
According to the CBC, Angus Wilson, the superintendent of the school district of which Albert McMahon Elementary School is a part, said there was a reason for the letter, but the decision could have been communicated more clearly.
"The intention, as I understand it, has to do with a trauma that has been experienced at the school fairly recently. It has nothing to do with the value of Mother's Day or civic holidays."
The school's April newsletter, in fact, made a point of noting Mother's Day on its calendar as a reminder to parents.
Other schools around the world have contended with similar problems when it comes to these particular holidays. This week an elementary school in Melbourne, who had announced they would be celebrating "International Families Day" instead of their annual "Mother's Day," had to reverse their decision after the opposition leader stepped in with a complaint, reports the Daily Mail.