OTTAWA — Don Meredith will be able to collect an annual pension because former Prime Minister Stephen Harper appointed him to the Senate, not because of Liberal government policies, Treasury Board President Scott Brison said Wednesday.
The Senate pointed the finger at the Treasury Board Secretariat when HuffPost Canada asked Tuesday morning whether Meredith would gain any financial advantage if he resigned rather than wait to be expelled from the upper chamber by his colleagues.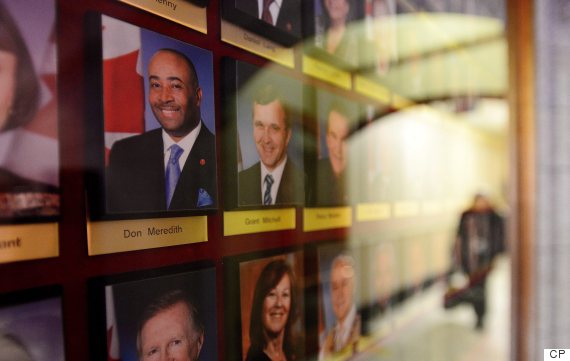 A portrait of Senator Don Meredith is displayed on the wall alongside fellow senators on Parliament Hill in Ottawa on May 9, 2017. (Photo: Sean Kilpatrick/The Canadian Press)
Senate spokeswoman and Conservative staffer Jacqui Delaney responded these were "very broad, open ended questions" and referred all calls to the government department that oversees parliamentary pensions.
Hours later, Meredith signalled his intent to quit. His lawyer, William Trudell, forwarded a letter titled "Media statement on letterhead" stating that the senator had decided "to move forward with my life with the full support of my wife and my children…
"It is my hope that my absence from the Senate will allow the Senators to focus their good work on behalf of all Canadians. The path of expulsion being considered by my colleagues will have major implications for the Senate of Canada. This is a constitutional fight in which I will not engage."
Wednesday afternoon, Senate Speaker George Furey received official notice from Rideau Hall that Meredith had resigned.
Senator says ball is in feds' court
In an email to HuffPost, Sen. Leo Housakos, the chair of the powerful internal affairs committee and the person who directs the Senate's communication office and its talking points wrote: "As for the pension issue, we can not deal with it because it falls under treasury act. It's crystal clear. That ball is in court firmly of the Government and Treasury Board."
But Brison told reporters Wednesday there was nothing in the law that allows his department to deny pension benefits to a senator or member of Parliament who resigns with six years of pensionable service.
"It's an Act of Parliament. It is not a policy of Treasury Board," he said. "If the Conservatives are looking to blame someone for Senator Meredith's pension, they should look at themselves in the mirror because it was the Conservatives and Stephen Harper who named Senator Meredith to the Senate."
The Treasury Board Secretariat noted that if a senator is disqualified, or if an MP is expelled, members are only entitled to receive a return of their contributions plus interest.
"If the Conservatives are looking to blame someone for Senator Meredith's pension, they should look at themselves in the mirror."
— Treasury Board President Scott Brison
It remains unclear, however, whether disqualification only refers to issues such as a senator no longer meeting the Senate's eligibility requirements by, for example, no longer having $4,000 worth of property.
The Secretariat noted that it does not have the unilateral authority to intervene or change the pension entitlements under the Members of Parliament Retiring Allowances Act. "Any changes would require a legislative amendment by Parliament," they said in a statement.
The law was last amended in 2012, when Harper reduced parliamentary pensions.
"Sen. Housakos is either ignorant of Senate policy and the law that governs this, which is an Act of Parliament, or he's spinning this," Brison said.
"And even if an Act of Parliament were changed, it would not apply retroactively."
Like several other embattled senators who resigned before him, including Liberals Raymond Lavigne and Mac Harb, Meredith gets to keep a pension that the Canadian Taxpayers Federation estimates is worth about $24,420 a year.
Were he to start collecting benefits in July 2019 at age 55 and continue to age 90, Meredith would earn about $1.1 million with cost of living increases factored in, based on the watchdog group's calculations.
But Meredith is also entitled to other benefits which the Senate could possibly try to strip from him, several sources said.
Meredith can keep health benefits
By resigning, Meredith is allowed to maintain his health benefits — if he wants to. Although, when he retires we will have to pay 100 per cent of the contributions. He is also allowed to keep four travel points which allow him to travel to and from Ottawa to close his office.
He can also keep a staff member on for two months to handle correspondence and oversee the shuttering of his workspace. These issues could be reviewed by Housakos' internal economy committee.
Delaney, however, insisted that was not the case. Any action dealing his travel points, access to his office, his moving expenses and staff for two months "would have to be a decision by the Senate."
"This has nothing to do with Internal Economy," she wrote in an email. That puzzled a few senators and staffers who wondered how the Senate would talk about it without a recommendation from the committee. One senator on the internal economy committee noted that someone could bring it up at its next meeting, Thursday, but he suggested there was little appetite to keep the Meredith issue going.
Last week, following an explosive report outlining Meredith's sexual relationship with a teenager, the Senate ethics committee recommended he be expelled from the chamber — an unprecedented move in the red chamber's history.
Meredith remains the subject of two ongoing ethics inquiries — including a workplace harassment probe investigating claims of bullying and sexual assault towards his employees. It remains unconfirmed by the Senate Ethics Office and by the Senate ethics committee if those reports will be permanently shelved.
With files from the Canadian Press
Also on HuffPost
How Much Are Federal Politicians Making? (2017)