Margaret Atwood's dystopian world in "The Handmaid's Tale" is on par with the "horrific" reality women in Saudi Arabia face today, a Conservative MP said Wednesday.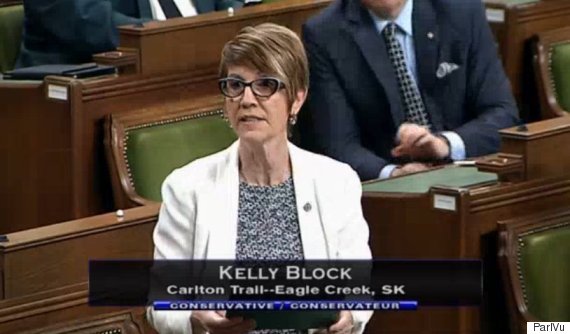 Conservative MP Kelly Block speaks in the House of Commons in Ottawa on May 10, 2017. (ParlVu screengrab)
Kelly Block rose in the House of Commons to say she's "shocked and appalled" by Saudi Arabia's election to the UN's Commission on the Status of Women last month.
"Saudi Arabia is a gender segregationist theocracy where women are regularly harassed by religious police," Block said, evoking Atwood's seminal 1985 novel as a point of comparison.
"Women are treated as property, and those who dare speak out are permanently maimed," she said. "What is fictional in Canada is reality in many parts of the world."
The Carlton Trail — Eagle Creek MP also accused the government of being "unwilling" to confront the wealthy gulf nation over its human rights record, in particular to women.
"What is fictional in Canada is reality in many parts of the world."
Block made her comments in a member statement, so the government did not respond to her remarks.
Saudi women are subject to the country's guardianship system, where every woman is required by law to obtain a male guardian's consent every time she seeks government services. Women are also barred from driving in the country.
In Atwood's book, set in a totalitarian theocracy in the not-so-distant future, women are stripped of their rights and are subject to systems of institutionalized sexual violence.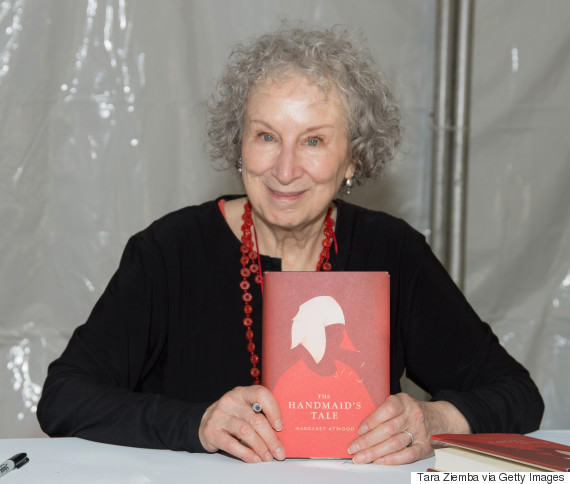 Margaret Atwood attends a book signing of "The Handmaids Tale" at the Los Angeles Times Festival Of Books at USC on April 23, 2017 in Los Angeles. (Photo: Tara Ziemba/Getty Images)
A new television adaptation of Atwood's book, starring former "Mad Men" star Elisabeth Moss, has attracted a new audience for its topical motifs that some perceive as a cautionary tale amid a Donald Trump-era of politics.
Trudeau's feminist reputation criticized
In April, Conservative MP Michelle Rempel criticized Prime Minister Justin Trudeau for not speaking out against Saudi Arabia's appointment to the commission.
"If you really are a feminist, if you purport to stand up for women's rights, that means all women around the world," she said.
Rempel brought up the issue again last week, calling Trudeau a "self-professed feminist" and urged him to express his disapproval over the UN secret vote.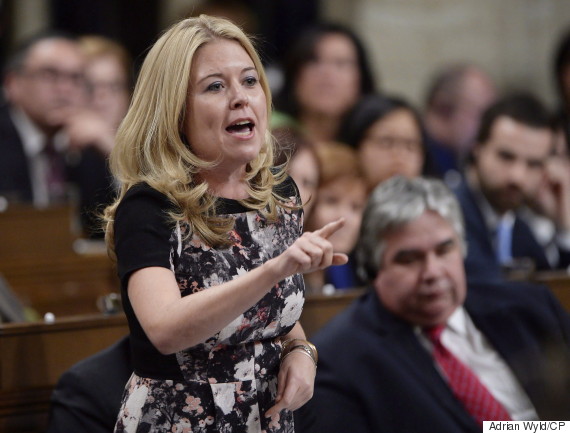 Conservative MP Michelle Rempel speaks in the House of Commons on March 22, 2017. (Photo: Adrian Wyld/The Canadian Press)
The prime minister responded by saying Canada "strongly" disagrees with Saudi Arabia's election to the commission, and conceded that "unfortunately, it was the only candidate from that region."
"Canada does not have a voice on that particular body," Trudeau said. "We are happy to defend human rights anywhere in the world repeatedly, directly with the leaders and in public."
The issue has also been brought up by other Tories including MPs Rachael Harder, Peter Kent, and leadership contender Kellie Leitch.
Also on HuffPost
Women Protesting For Reproductive Rights