Olympic gold medallist Simone Biles is a woman of many talents.
She's a balance beam pro, has the ability to bend in ways many of us can't imagine and can do a perfect 180-degree handstand. But one thing she won't be doing is smiling on command.
The 20-year-old made this point very clear on Monday night's episode of "Dancing With The Stars," when host Tom Bergeron asked why she didn't smile as the judges praised her for her routine with partner Sasha Farber.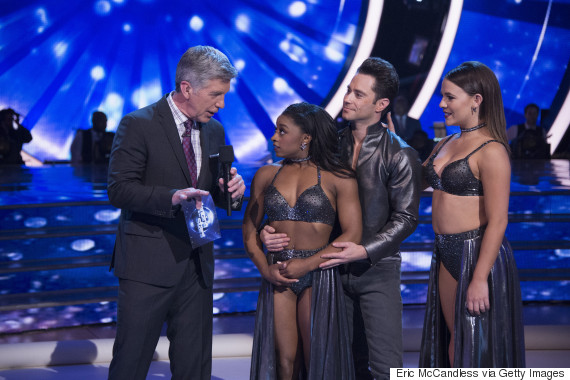 "Smiling doesn't win you gold medals," she replied, with her pearly whites now all on display.
Zing!
Viewers at home were thrilled with her response and shared their thoughts on social media.
@SashaFarber face when @Simone_Biles said : "smiling doesn't win you Gold medals" is ....amazing 😂😂 priceless #dwts pic.twitter.com/awC8nDkDE2

— Leyla (@DarthSpongie) May 9, 2017
Simone Biles: "Smiling doesn't win you Gold Medals"
S.A.V.A.G.E #DWTS pic.twitter.com/byTFrfaSyN

— Balkîssa (@nathybarry18) May 9, 2017
"Smiling doesn't win you Gold medals." Oh Simone Biles you savage. #DWTS

— Eric Mueller (@EricJ_Mueller) May 9, 2017
While the gymnast had a cheeky clap back, men asking women to smile, even if their intentions are pure, can be very problematic, according to biological anthropologist Helen Fisher.
"Telling anybody to do anything can rub you the wrong way, particularly if it's not natural to you," Fisher told USA Today in March.
"If people tell you to smile when you don't feel like smiling, [and you smile] you aren't being true to yourself."
Biles has been a fan favourite on DWTS this season, but she's yet to land a perfect score from the judges and only scored 36 out of a possible 40 on her last performance.
"I feel like everyone has their own opinion, clearly, and I feel it's just how you take it," she told Entertainment Tonight after the show. "I feel like I am trying, I am being honest, but if they don't see that, I don't know what more I can do."
And although she's typically able to deal with criticism, seeing as she's been in the spotlight for quite some time, the Ohio native admits that the harsh words from the judges hurts.
"I had tears in my eyes," she recounted. "I almost ran to the bathroom at one point, but I pulled it together."
Thankfully, dancing pro Farber is more than supportive of his lady.
"I just know how hard this girl works," he said. "Each week she comes in and she delivers something different. There's a lot of expectation on her shoulders, and we're just gonna go back into the studio and keep digging."
You're a star, Simone!
Stay On Top Of The Trends.
Get the biggest lifestyle news sent to your inbox


Also on HuffPost
Best "Dancing With The Stars" Alum