Last week, Muhammad and Afraa Bilan, a Syrian couple who fled war-torn Damascus, welcomed the newest member of their family.
Born in Calgary, the baby boy weighed seven and a half pounds and came out with a head full of dark hair. And that mop seemed only appropriate, given his namesake — Justin Trudeau Adam Bilan.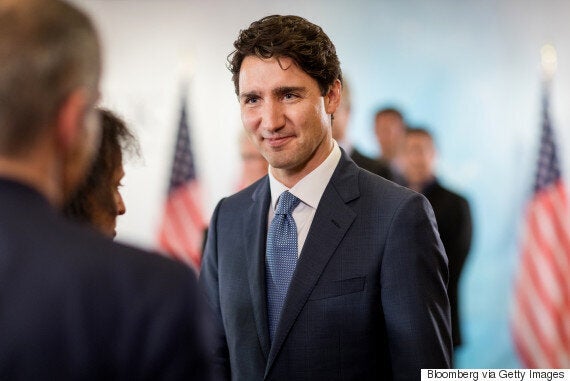 Justin Trudeau, Canada's prime minister, arrives to speak during a roundtable discussion at the 2017 CERAWeek by IHS Markit conference in Houston, Texas, U.S., on Thursday, March 9, 2017.
"We love this man, we appreciate him. He helped a lot of refugees. He's the reason we are in Canada," Afraa Bilan told The Star.
The Bilan family, with their four-year-old daughter, Naya, and three-year-old son, Nael, arrived in Montreal in February of last year. They later moved to Calgary, the place where their baby Justin Trudeau will call home.
But little Justin Trudeau Adam Bilan isn't the first baby to be named after Canada's leader — and he probably won't be the last. There were five other known babies before him, spread across the country.
The first family of Syrian refugees to pay tribute to Trudeau was the Al Shibli family of six who moved to Saint-Hyacinthe, in Quebec's Montérégie region. Their seventh child, a daughter, was born Justine Al Shibli.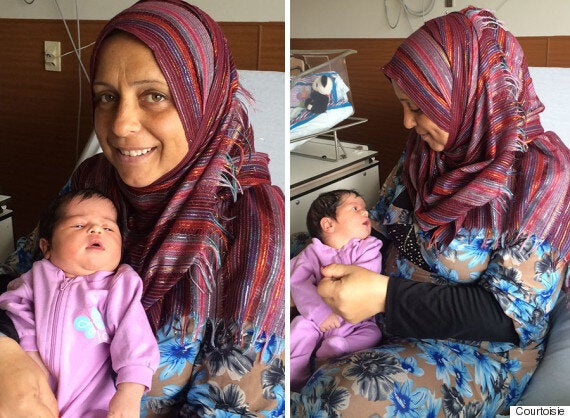 Justine in her mother's arms. (Photo: Supplied)
"Thank you so much, prime minister. We appreciate so much what you've done for us. You saved our lives. Every time we call our girl Justine, we'll remember that. She's so lucky to be able to grow up in a democratic country like Canada," mother Maysaa Al Nayef said through an interpreter as reported by HuffPost Quebec.
Justine is the only child in her family to have a Canadian first name.
When Syrian refugee mother Tarfa Ali Al Shheida was about to give birth in Windsor, Ont., she had a name picked out for both a boy and girl. If her newborn was to be a girl, her name would be Canada; a boy, Justin.
Justin Al Jaafar was the little boy that came into the Al Shheida's life.
"No matter what we say, or no matter how many kids we name after this country, it won't be enough for how our lives have changed," Al Jaafar told CBC. "We love Canada, it's our home, and we are so thankful."
And in February, another baby Justin was born, to a family living in a North York, Ont. hotel room, this time to Hussam Eddin Alahmad and his family, who had only been in Canada for a month at the time of the birth.
"It's true the name Justin is Western and we are Eastern and Arabs but out of my admiration of Trudeau, I had no problem to name my son Justin — because I like this person. For me he is wonderful and compassionate, I hope all leaders whether Easterners or Westerners would be like him," Doso said.
Likely the most memorable tale came from 10-year-old viral sensation Abdel Kader Al Shaikh. He's the young Syrian refugee who looked absolutely exhausted and annoyed as he sat in the front row of Justin Trudeau's town hall meeting in Fredericton back in January.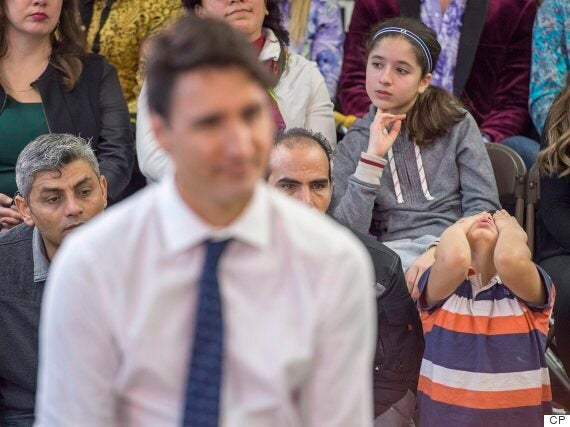 The real Justin Trudeau found the photo amusing, even commenting on it on Twitter.
Once it was learned that Trudeau made light of the situation, the Al Shaikh family told the media it was their children's request that their next child would be named after the PM.
Days later, Justin Trudeau Al Shaikh was born.
Though naming a child after a president is a known tradition in the U.S., which started after the American revolution as a way to honour famous men, it's not as common in Canada. But it seems like our Prime Minister has started a serious name trend.
Besides all having babies named after the same man, all of these families can agree on the fact that their little bundle of Justin(e)s will grow up in a safe country with access to education and happiness — and those are rights that all children deserve.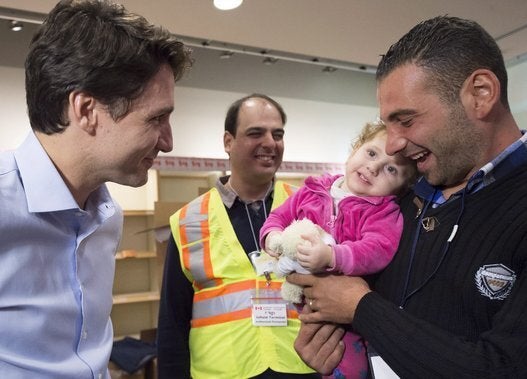 Trudeau Greets Syrian Refugees