TORONTO — Four men accused of arranging a brazen daytime killing at a crowded Toronto cafe as part of a feud among drug traffickers have been found guilty on all charges.
Nicola Nero, Martino Caputo, Rabih Alkhalil and Dean Wiwchar had all pleaded not guilty to first-degree murder and conspiracy to commit murder.
Wiwchar was accused of actually carrying out the June 2012 killing of John Raposo.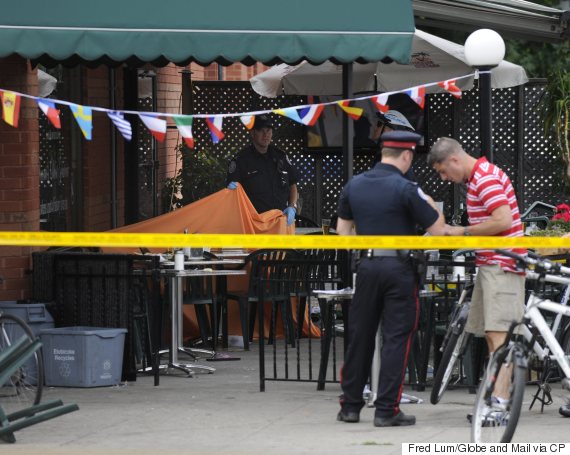 Gunfire rang out in this cafe in Toronto's Little Italy in June 2012. Four men have been found guilty of first-degree murder in the death of John Raposo. (Photo: Fred Lum/Globe and Mail via CP)
Prosecutors alleged the group orchestrated the hit on their rival in part because they believed he'd ratted Nero out to authorities.
The Crown alleged Nero, Caputo and Alkhalil plotted to steal a 200-kilogram shipment of cocaine from Raposo, split the money between them, and have him assassinated.
The Crown relied partly on encrypted messages it said were exchanged by the men in the months leading up to the shooting.
One of the defence lawyers in the case said any talk of revenge in the messages was pure "macho trash talk'' and ought not be considered proof of a murder plot.