LETHBRIDGE, Alta. — The Alberta SPCA has charged a southern Alberta man with animal neglect after more than 100 dogs were removed from a residence in March. On March 24, two SPCA officers, with assistance from Lethbridge Animal Services, removed the 101 dogs from the residence in the Varsity Village neighbourhood of Lethbridge. Three puppies were born to one of the seized dogs that were held at the Lethbridge Animal Shelter.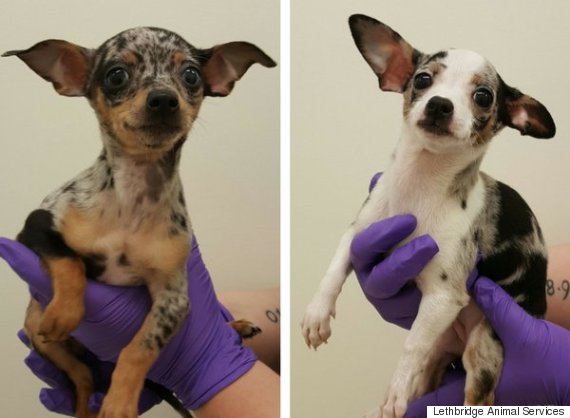 These puppies were born at the Lethbridge Animal Shelter to a dog taken from a residence in Lethbridge. (Photo:Lethbridge Animal Shelter)
The owner transferred ownership of all the dogs to the SPCA on March 30, and the SPCA then turned the dogs over to Lethbridge Animal Services and the Calgary Humane Society, which cared for them until they were healthy enough to be adopted out. David Michael Petiot, who is 61, of Lethbridge, has been charged with causing or permitting dogs in his care to be in distress and failing to provide adequate care for wounded or ill dogs. His first court appearance is set for July 10 in Lethbridge. Two of the dogs were young, large breed dogs, while the rest were small dogs, mostly Chihuahuas and pomeranians, of varying ages and conditions. Two needed surgery and the majority need some type of medical treatment.  
Also on HuffPost:
Fraser The Dog Rescued After Exhausting Hike