They say money can't buy everything, but if you're travelling out of Los Angeles International Airport (LAX) any time soon, forking over extra dough definitely has its advantages.
The world's richest can now pay their way to a better airport experience by using The Private Suite, an ultra-VIP airport terminal for commercial flights.
The US$22 million terminal, which opens today, offers private TSA screening, esthetician services for hair, makeup and nails, and a luxury car that will take you directly to the doors of the plane on the tarmac.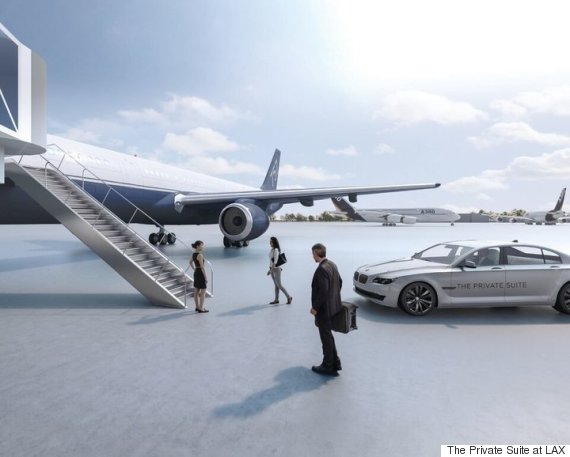 How's this for service? (Photo: The Private Suite)
There's also a selection of clothing available to anyone who feels they might need a fresh shirt or warmer jacket, and customers can peruse and buy art from rotating installations, with all the proceeds going to charity, reports The Guardian.
You'll have to fork over $7,500 in yearly membership fees to use the terminal, however, and cough up an additional $2,700 to $3,000 each time you visit the terminal for individual flights. The cost covers a group of up to four people.
For non-members, it's $3,500 for a domestic flight and $4,000 for international flight for a group of up to three people.
No security lineups. Can you imagine? (Photo: The Private Suite)
"I love it," movie producer Charles Wessler told the Los Angeles Times. He's one of the 1,200 or so people who have signed up for The Private Suite's services.
"I walked out the door of the plane and there was a guy standing there with a little sign, come with me," Wessler told the newspaper. "I go out the door, down the steps, right past the wing... We get into a car and drive on the taxiway, go out a gate and about three minutes later or less, I'm at the suites. I walked in and a woman at the desk said, 'We have your rental car, it's right here.' I signed a piece of paper and I drove away.'"
The terminal's operator, Gavin de Becker, told The Guardian he expects about 10 per cent of the users to be celebrities who are fed-up with dealing with paparazzi inside the airport's main terminals. The rest will likely be CEOs and other corporate big wigs.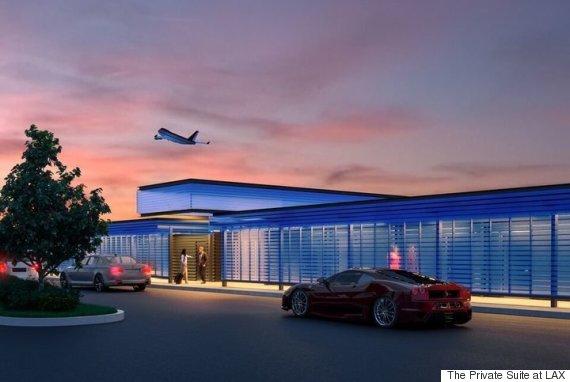 His company also promises a stress-free experience.
"It typically takes 2,200 footsteps from car seat to plane seat. For members of The Private Suite, it's 70 footsteps. And they are all peaceful footsteps," the website reads.
And while us common folk may scoff at such extravagant luxuries, The Economist argues that keeping the well-heeled hidden from sight of the average traveller will likely cut down on conflict in the lower class.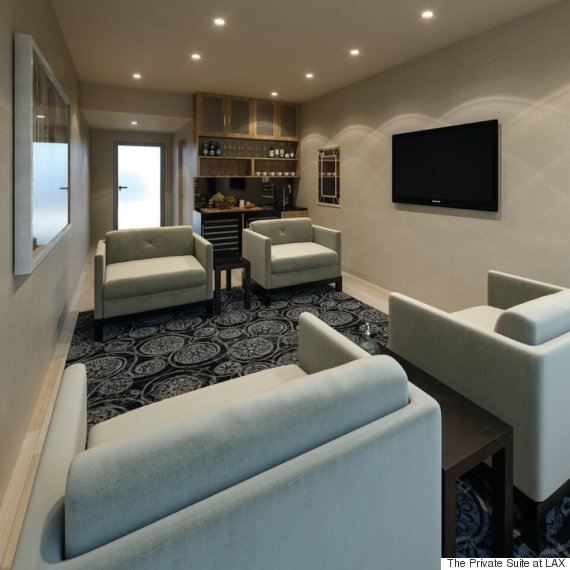 A private single suite that both members and trial members can enjoy for a fee. (Photo: The Private Suite)

The magazine points to a 2016 study that found air rage among economy-class flyers goes up when they are witness to the higher-class receiving better service.
"Even if the idea of such segregation fills people with ire, as long as they are not forced to witness how the other half lives, that anger will remain abstract."
Follow HuffPost Canada on Facebook, Twitter, and Instagram.
Also on HuffPost
Unique Airports In The World