Hailing from District of Columbia, the new Miss USA Kára McCullough stunned the judges and those watching at home as she made her way onto the stage.
Rocking her natural, curly hair and revealing she's not only a nuclear scientist, but an advocate for science education as well, made her a shoo-in for the coveted prize. But after the question and answer segment, some were left scratching their heads.
In the final round, the finalists were asked, "What do you consider feminism to be and do you consider yourself a feminist?" And while the beauty queen said she hopes to inspire more women to take on leadership roles, she also associated the term with the dismissal of men.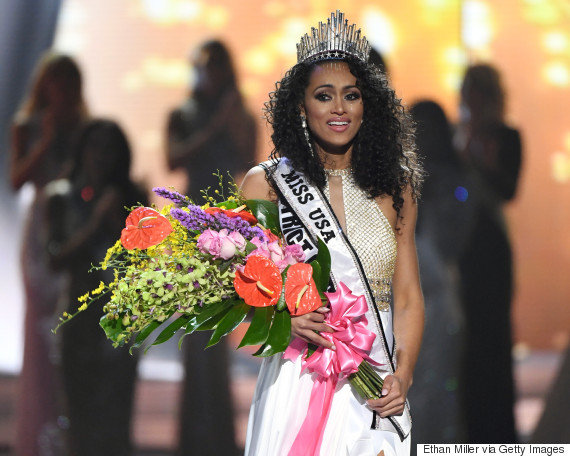 "As a woman scientist in the government, I'd like to transpose the word feminism to equalism," she explained. "I try not to consider myself this die hard, like, I don't really care about men."
As expected, people weren't too pleased with her clouded views of feminism and took to social media to air their thoughts.
Miss District of Columbia #MissUSA pic.twitter.com/88hHBkKsj3

— Kalee. (@kalechipss) May 15, 2017
DC isn't a feminist, but an "equalist." #MissUSA pic.twitter.com/eABrF1UY3A

— ❄️Nasty Woman❄️ (@AlyssaSaidBye) May 15, 2017
When you were rooting for Miss DC but then she says she's not a feminist bc she's for equality smh #MissUSA

— Avalon (@savvy_avy25) May 15, 2017
On the other hand, Miss New Jersey had a very different view of feminism.
"Feminism is striving for equality and I do consider myself a feminist," the 20-year-old shared. "I think it's a misconception when people believe that feminism is women being better than men. But it's really not. It's a fight for equality. And we need to realize that if we want a stable society, a better future for every single individual, we need to be equal."
"And that's why I advocate for education for women," she continued. "Women are still held back in places in the world. They still don't have that right to their independence, that right to their equality — all because of education. And, once we do take that step, I believe that an equal world will be a better world."
While McCullough is entitled to have her own views, the idea that feminism is somehow taking away from men is not only untrue — it's harmful. The movement seeks to put everyone, regardless of gender, on an equal playing field.
"Women are still held back in places in the world. They still don't have that right to their independence, that right to their equality — all because of education.
But the topic of women's rights wasn't the only place viewers thought McCullough stumbled.
When asked, "Do you think affordable health care for all U.S. citizens is a right or a privilege, and why?," the 25-year-old who works for the Nuclear Regulatory Commission chose the latter option.
"I'm definitely going to say it's a privilege," she said. "As a government employee, I am granted health care and I see first-hand that for one to have health care, you have to have jobs."
"So therefore, we need to continue to cultivate this environment that we're given the opportunity to have health care as well as jobs to all American citizens worldwide."
New #MissUSA gets it - calls healthcare a privilege, not a right. pic.twitter.com/MKT7ImImPg

— 'Free Speech' Susan (@DefendTheWeb) May 15, 2017
And folks weren't afraid to sound off with their distaste for this response, either.
Dang I wanted Miss D.C to win but I'm sorry affordable health care is not a privilege. Health care should be a human right! #MissUSA

— Kandacy Adams (@_KandKand) May 15, 2017
#MissUSA Miss DC just lost me with that answer....Affordable healthcare is a privilege? Girl bye. pic.twitter.com/Q5mU7PIlx1

— Kat 🤗❤ (@dazella_may) May 15, 2017
DC just lost my vote. Healthcare shouldn't be a privilege for only people with jobs.#MissUSA pic.twitter.com/QMlAR24EiC

— mollie (@mollie64438390) May 15, 2017
While the new Miss USA may see the world from a viewpoint in which only certain people should be granted specific rights, let's hope that working with the pageant organization will open her eyes to learning about other's realities.
Also on HuffPost
10 women on why feminism still matters