Remember when your kids started school and you rejoiced because you'd never have to spend money on child care again? Well, you cheered too soon because you forgot about summer camps. Gotta put those kids somewhere all summer!
Fortunately, the variety of summer camp offerings has never been more widely available, and its clientele is increasingly specific about what they'd like to spend their summer doing. We rounded up several options for campers from around Canada, covering everything from kayaking to hiking to playing with the computer to dancing.
Here are just 12 of the dozens of unique summer camps that will be running across the country in July and August. No matter what your kid loves, there's something out there that they'll get excited about.
This inspirational summer camp brings together self-identified girls and female youth with volunteer music professionals from Newfoundland and Labrador — with no prior musical experience necessary for campers. Girls will develop leadership skills along with rock-and-roll chops.
Location: The Lantern, St. John's, N.L.
Dates: July 17-21
Age group: 8-16 years
The kids who attend this camp won't have to develop public speaking skills as adults, because they'll have honed them during this unique summer camp that focuses on avoiding stage fright, projecting one's voice, and developing interpersonal communication skills.
Location: Palliser Bayview Pumphill Community, Calgary, Alta.
Dates: July 17-21
Age group: 8-11 years
This coding camp aimed at girls from grades 3 to 6 is just one of several science-based camps offered by Science Venture in Victoria. Participants will work on game design, robots, app building, and 3D modelling with an all-girl group.
Location: St. Margaret's School, Victoria, B.C.
Dates: July 4-7 and July 10-14
Age group: 10-11 years and 8-9 years
With 30 years of experience offering summer camps, you know Science North will have something great in store for your kid. They provide science-focused summer camps throughout Northern Ontario, including several French Immersion camps new this year.
Location: Several communities across Northern Ontario
Dates: Varies by location
Age group: Ages 4-13 years, depending on the camp sessions chosen
If your kid is always climbing the walls, give them a way to do it literally at this climbing camp for pre-teens. They'll get a safe and age-appropriate introduction to rock climbing with qualified coaches. There's also a mini-camp for younger kids or older beginners.
Location: Peninsula Co-op Climbing Centre, Victoria, B.C.
Dates: July 4-7, July 24-28, August 8-11, August 21-25
Age group: 10-13 years
Do you have a budding marine biologist in your house? They'll love attending camp at the Vancouver Aquarium, where they can get hands-on experience with the animals and learn a ton, all while having a great time. If ocean conservation is your kid's jam, check out the Youth Environmental Leaders Programs, too.
Location: Vancouver Aquarium, Vancouver, B.C.
Dates: Every week of summer, starting July 4 and ending September 1
Age group: 4-8 years and 8-12 years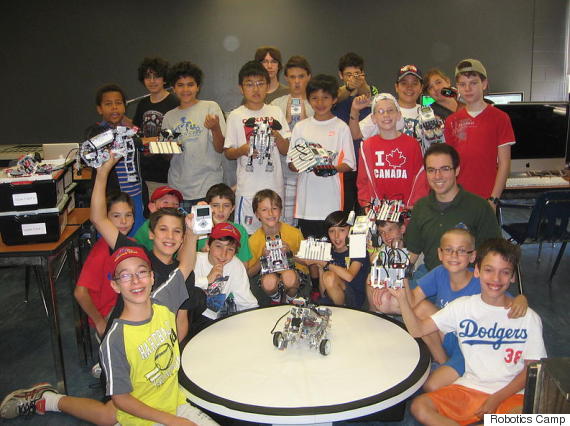 Your Lego-loving kid will have a blast at this Montréal-area camp, where they'll learn to use the plastic bricks to make robots and gain skills in engineering and coding — but they'll be having too much fun to realize they're learning something.
Location: Dawson College, Montréal, Que.
Dates: Six week-long sessions from July 3 to August 18
Age group: 8-13 years
If there's something you'd like to learn to play, you can probably do it at this summer camp, which even has some classes for adults. Your kids can explore popular instruments like guitar or violin, or sign up for ukulele lessons or join a youth pop choir.
Location: Yukon Music Camp Society, Whitehorse, Yukon
Dates: Vary depending on class, throughout July and August
Age group: Vary depending on class, up to adults
So your kid isn't up for a traditional outdoor-focused summer camp experience. That doesn't mean they can't have a great time at a camp like the Dungeons and Dragons offering at the Harbourfront Centre, which has a variety of other specialized options to appeal to all kids.
Location: Harbourfront Centre, Toronto, Ont.
Dates: Seven week-long sessions from July 4 to Sept 1
Age group: 10-15 years
If your kids already love the great outdoors then a summer spent zip-lining and kayaking will probably only deepen that appreciation for nature — and all the opportunities for adventure it provides. They'll get to do both those things and more, including canoeing and outdoor cooking.
Location: Shipyards Park, Whitehorse, Yukon
Dates: One-week sessions starting June 19 and ending September 1
Age group: 5-12 years
Children with exceptionalities, including ADHD and ADD, will find a welcoming environment at Camp Kirk. They'll also find many other classic summer camp activities including fishing, outdoor time, and sports — not to mention great friends.
Location: Camp Kirk, Kirkfield, Ont.
Dates: 7-10 days overnight, running from June 30 to August 23
Age group: 6-13 years, with a teen program for returning campers
Treat your little animal lover to a week of furry fun at this camp with the Calgary Humane Society. There are a variety of different themes running throughout the summer, covering everything from domestic pets to wild animals to careers in veterinary medicine.
Location: Calgary Humane Society, Calgary, Alta.
Dates: Week-long sessions, running from July 4 to September 1
Age group: 6-14 years, in groups by age