Tourism Sarnia-Lambton
If you're looking for sandy beaches and killer waves, follow the scenic roads to Ontario's Blue Coast. The region has some of the most gnarly beaches in North America, perfect for adrenaline junkies and chillaxers alike.
This article is presented in partnership with Ontario's Southwest, Tourism Sarnia-Lambton, and Ontario Tourism.
Endless Beaches
When you're looking for a beach along the coast, look out for a flying blue flag Blue Flag® -- an official designation that deems a beach "totally rad" by taking into account everything from water quality to safety. Ontario's Blue Coast is home to two internationally renowned Blue Flag® beaches: Grand Bend's Main Beach and Canatara Park in Sarnia.
You'll be enticed to splash around in the sparkling clean water of Grand Bend Main beach -- a favourite amongst locals and tourists alike since the 1870s. Walk down the boardwalk, have the kids play in splash pad or escape to the South Beach for a moment of zen. But only after a session of jet skiing, skidooing or wakeboarding. Grand Bend is perfect for those looking for a water adventure.
But if you're looking for a best-in-class wakeboard conditions, Canatara Park in Sarnia is the place to be. Spanning nearly one kilometre along the shore of Lake Huron, the beach has areas with calm waters and steady winds -- the perfect conditions for cutting through waves. Visit the beach this summer for a swim, a game of beach volleyball or a waterside picnic.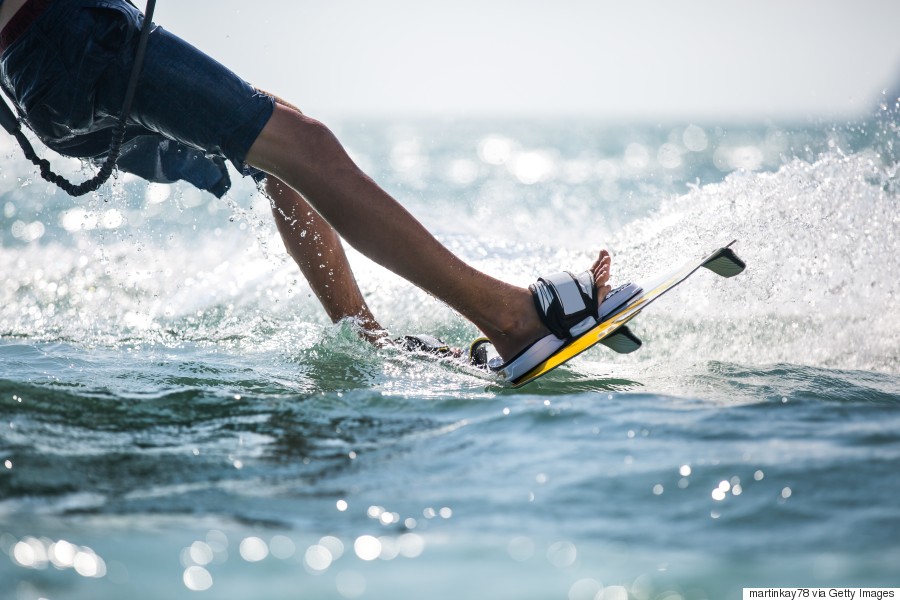 Wild Watersports
Once you've found your home away from home, consider a sporty adventure. Grand Bend is the spot to try parasailing – a thrilling ride that has you soaring at heights of up to 1,000 feet with the help of a parachute and a motorboat.
Companies like Xtreme Watersports offer all sorts of ways to have a blast on the water, from the latest in motorized aquatic toys to giant, 20-foot trampolines. Grand Bend Flyboard also offers the latest in adventure, including the epic water sport known as flyboarding. It uses water pressure to thrust you into the air at heights up to 15 metres. It's straight out of a superhero comic book.
Beach lovers know there's nothing like the feeling of total freedom as you jet out across the water's surface with the wind whipping past your face. Whether your toy of choice is a jet ski, seadoo or waverunner, Grand Bend is your ultimate playground. Contact Deep Wave Rentals to get hooked up with all the right gear.
If you're looking for a totally new adventure, try cable wakeboarding -- think water skiing minus the boat and replaced with a powered cable system. Yes, really. Ontario's Southwest is dotted with wakeboarding parks that will teach you the ins and outs of the sport. Check out Boarder Pass Cable Park -- the largest cable wakeboarding company in Canada situated on the pristine waters of Sarnia Bay.
While you're there, be sure to rent a boat to tour the area. At Bridgeview Boat Sales, you can rent a boat for up to 10 people and spend a day cruising under the Blue Water Bridge, a bridge that crosses the St. Clair River and connects Ontario to Michigan. Ride amongst sailboats and ships as you soak up the sun with friends this summer.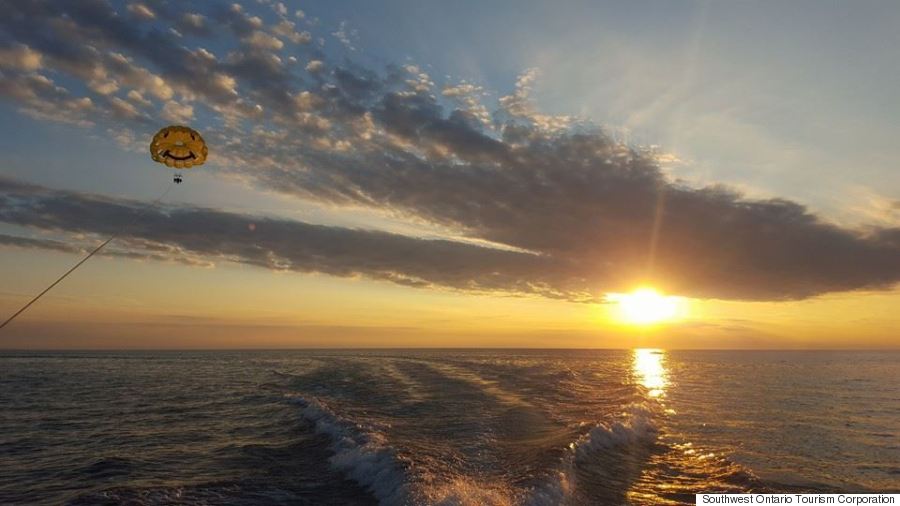 Grab A Paddle
What better way to explore Ontario's Blue Coast and its surrounding waterways than on a quintessentially Canadian canoe. Get back to nature paddling down the Old Ausable Channel which runs through Pinery Provincial Park. Or begin your day with a Stand Up Paddleboard at dawn and end it in a kayak for a sunset paddle on Lake Huron with Beach Bum Rentals in Brights Grove.
But no matter what water activity you choose, Ontario's Blue Coast is the place to be getting soaked this summer. Learn more here