Asian protagonists in children's books are rare, which is why one U.S. father decided to write his own after his four-year-old daughter declared she "didn't want to be Chinese anymore."
The words came out of Jerry Zhang's daughter's mouth after she realized all the heroes in her favourite books looked nothing like her. After all, protagonists like Madeline and Eloise are white.
As a result, the father-of-two, who is a lawyer and writer, created a fun and spunky character named Pepper Zhang. He then launched a Kickstarter campaign in April to turn Pepper Zhang into a book series.
"I created the character Pepper Zhang because when Madison was a little over two-and-a-half, I couldn't find any interesting, illustrated children's books that featured an Asian child as a main character or hero of the story," Zhang said in a Kickstarter video.
What he found instead were books focused on stories about Chinese culture, rather than stories of Asian characters having cool adventures.
"While it's important for children to learn about their cultures through books, it's equally important for Asian children to see themselves represented in books as interesting and smart individuals rather than just products of their cultures," Zhang wrote on Kickstarter.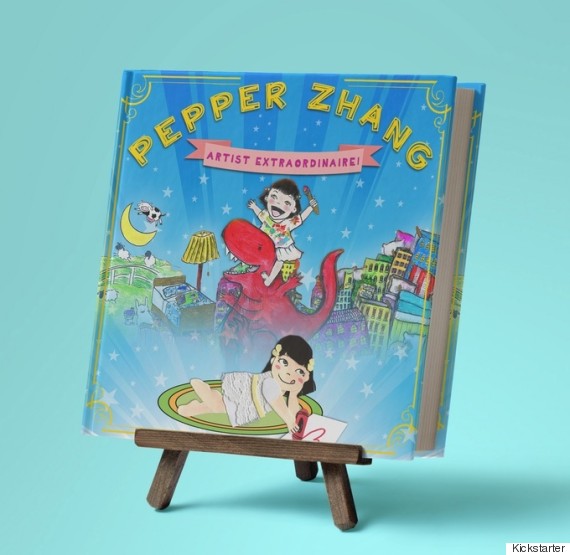 According to Upworthy, the response Zhang has received from Pepper Zhang has been overwhelmingly positive.
"I've gotten so many emails and messages from people of all backgrounds voicing their support for what I'm doing and asking that I continue writing these books and expand into other demographics as well," he told the site in an email.
Since launching his campaign, the father has vastly exceeded his goal of US$5,000. As of Wednesday, he has raised more than US$30,000!
The first book in his series is Pepper Zhang: Artist Extraordinaire!, which tells the story of a Chinese girl who "learns to express her emotions through art." The book will be published by Little Ning Books and the first printed copies will be sent to Kickstarter backers in September. Fans can also pre-order a copy through Little Ning Books' website.
On Facebook, many fans have praised Zhang for his brilliant campaign. "What a great project! We can't wait to read all about Pepper!" one wrote.
Another said, "Can't wait to see your books."
Zhang's anecdote about his daughter proves that representation really does matter. According to the Children's Cooperative Book Center, in 2016, only seven per cent of more than 3,000 children's books featured Asian-Pacific American characters.
"Representation does matter and I'm hoping the book and future books in the series will provide an option for children of all backgrounds to see a fun, strong and interesting Asian child as the hero of the story," Zhang told HuffPost.
Also on HuffPost
13 Children's Books That Celebrate Diversity