WINNIPEG — A man who walked across the United States border into Manitoba and lost all his fingers to frostbite has won the right to stay in Canada.
Seidu Mohammed, who is 24, has had his refugee claim approved five months after he walked across frozen fields near Emerson, Man., in a -30 C windchill.
He was not dressed for the cold weather and lost all his fingers to frostbite.
Mohammed says he is very happy to be able to stay in Canada.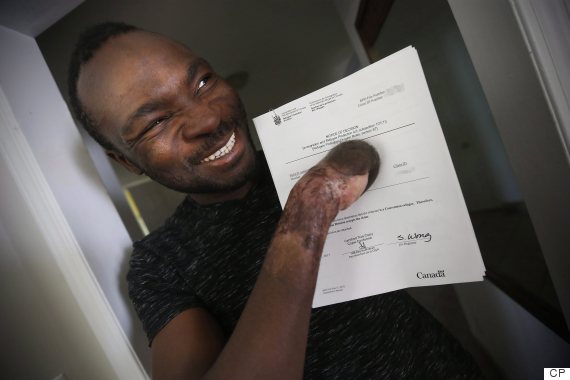 Seidu Mohammed smiles as he shows off his refugee claim acceptance letter in Winnipeg, on May 18. (Photo: John Woods/The Canadian Press)
He fled Ghana for the U.S. in 2015 because of his sexual orientation and walked to Canada when his visa expired.
His lawyer, Bashir Khan, said Mohammed was very emotional Wednesday night when he told the claimant about his application.
"He was very happy, thankful and tearful. He actually gave me a very tight and long hug in my office when he got the news. No words were spoken. Just 'thank you, thank you' and a long silent hug."
Khan said Mohammed plans to apply for permanent resident status, which takes about 13 months. Three years after that, he intends to apply for citizenship.
Needs rehabilitation after losing all his fingers
One of his goals is to coach soccer because he was considered a star player in his homeland, but Khan said Mohammed also faces a long period of rehabilitation as he learns to live without the use of fingers.
"I think, physically, it's really difficult to learn to cope with life and realize you don't have your fingers to do anything. He has to learn to live independently.''
The lawyer also said people have to realize that Ghana criminalizes homosexual activity and is an intolerant society.
"In a way, Ghana itself is the problem,'' said Khan. "It's a society that's very bigoted when it comes to LGBTQ people and that is why he had to flee for his life.''
Also on HuffPost
RCMP Officers Help Refugee Claimants Into Canada From U.S. Border