OTTAWA — A made-in-Canada solution to help softwood producers and workers weather the storm of U.S. duties has been delayed at least until the end of May.
It has been almost a month since the U.S. Department of Commerce slapped import duties of three to 24 per cent on Canadian softwood, arguing Canada unfairly subsidizes its industry by keeping the price of logging artificially low.
Cabinet discussed a package of options for up to $1 billion in aid for the softwood industry earlier this week, but negotiations with industry and provincial governments are still underway.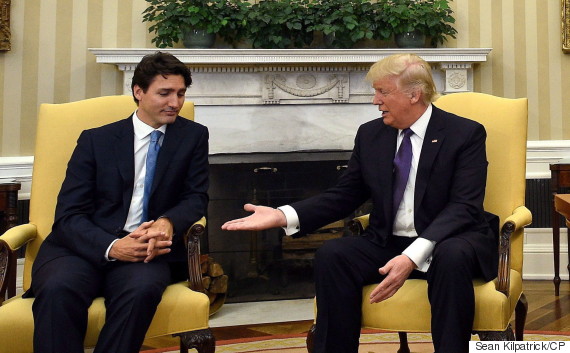 Prime Minister Justin Trudeau meets with U.S. President Donald Trump in the Oval Office on Feb. 13, 2017. (Photo: Sean Kilpatrick/The Canadian Press)
A source with knowledge of the negotiations says Natural Resources Minister Jim Carr had hoped to have the plan ready to present publicly by the end of this week, but things didn't quite come together in time.
The House of Commons is off next week for a break week, which means the earliest cabinet can discuss and finalize the plan now is May 30.
Multiple sources say there were meetings at the provincial level to discuss the package options this past week. A Quebec source told the Canadian Press the government was reluctant at first to do any kind of aid package, but has since changed its mind.
Quebec and Ontario have been pressing Ottawa to get loan guarantees ready since at least February.
'Everything is on the table'
During a visit Friday to Surrey, B.C., Prime Minister Justin Trudeau said the Americans have been wrong before about Canada's softwood industry — and they are wrong again.
Trudeau said the import tariffs the U.S. Department of Commerce slapped on Canadian softwood imports last month are unfair and punitive, and that Canada won't back down on the issue without a fight.
He said Canada strongly disagrees with the U.S. Department of Commerce decision which took effect April 28, imposing tariffs of three to 24 per cent on softwood imports.
Carr said this week "everything is on the table" when it comes to possible help for the industry as Canada prepares to fight the U.S. tariffs in court, and with both the World Trade Organization and under the North American Free Trade Agreement.
He specifically mentioned loan guarantees, which are one of the more controversial options because some fear the U.S. will see them as subsidies and will simply hike the tariffs more.
'We want a loan guarantee'
Frank Dottori, CEO of White River Forest Products in Northwestern Ontario, said that's nonsense.
"We want a loan guarantee," he said Friday.
He said the idea of loan guarantees as a subsidy has been debated and reviewed by international trade panels and rejected.
Still, the last time Canada and the U.S. engaged in a softwood battle, the $1.5-billion aid package, including loan guarantees, was immediately called a new subsidy by the U.S. trade representative.
In the end, it didn't matter then because the U.S. and Canada were already most of the way finished negotiating a settlement on softwood that was finalized just four months after the package was offered.
We've been down this road
Dottori said his company is paying $500,000 a month in duties, a punishing amount he can withstand only because the market is incredibly hot and the Canadian dollar is low.
"What's saving us now is a 74-cent dollar," he said.
A loan guarantee will help his company keep people working until Canada and the U.S. get a new deal, he said.
Canada can't file an appeal of the tariffs until early next year because the final determinations from the U.S. government on the softwood issue won't be made until late fall. Negotiations to get a settlement agreement continue in the meantime.
Another key element of the aid negotiations involves assistance to bring more value-added work to Canada, so instead of exporting mostly raw logs, Canadian companies turn those logs into door and window frames, furniture and countertops, among other things, and sell the finished products.
Earlier this week, Canada applied for exemptions to the duties for many of those finished products, such as bed frames and butcher block counters. No decision has yet been made on that issue.
It took Canada and the U.S. four years to reach a negotiated settlement on softwood from the time duties were imposed the last time. Within a year of the duties being imposed, 15,000 workers were laid off.
Over the course of the dispute, Canadian producers paid more than $5 billion in duties to the U.S. The settlement required the U.S. to return 80 per cent of that.
Also on HuffPost