Like a good sister should, the Duchess of Cambridge made sure she didn't outshine her sibling at her wedding!
On Saturday, May 20, Kate Middleton was spotted at the nuptials of Pippa Middleton and James Matthews wearing a demure Alexander McQueen ensemble, according to the Daily Mail.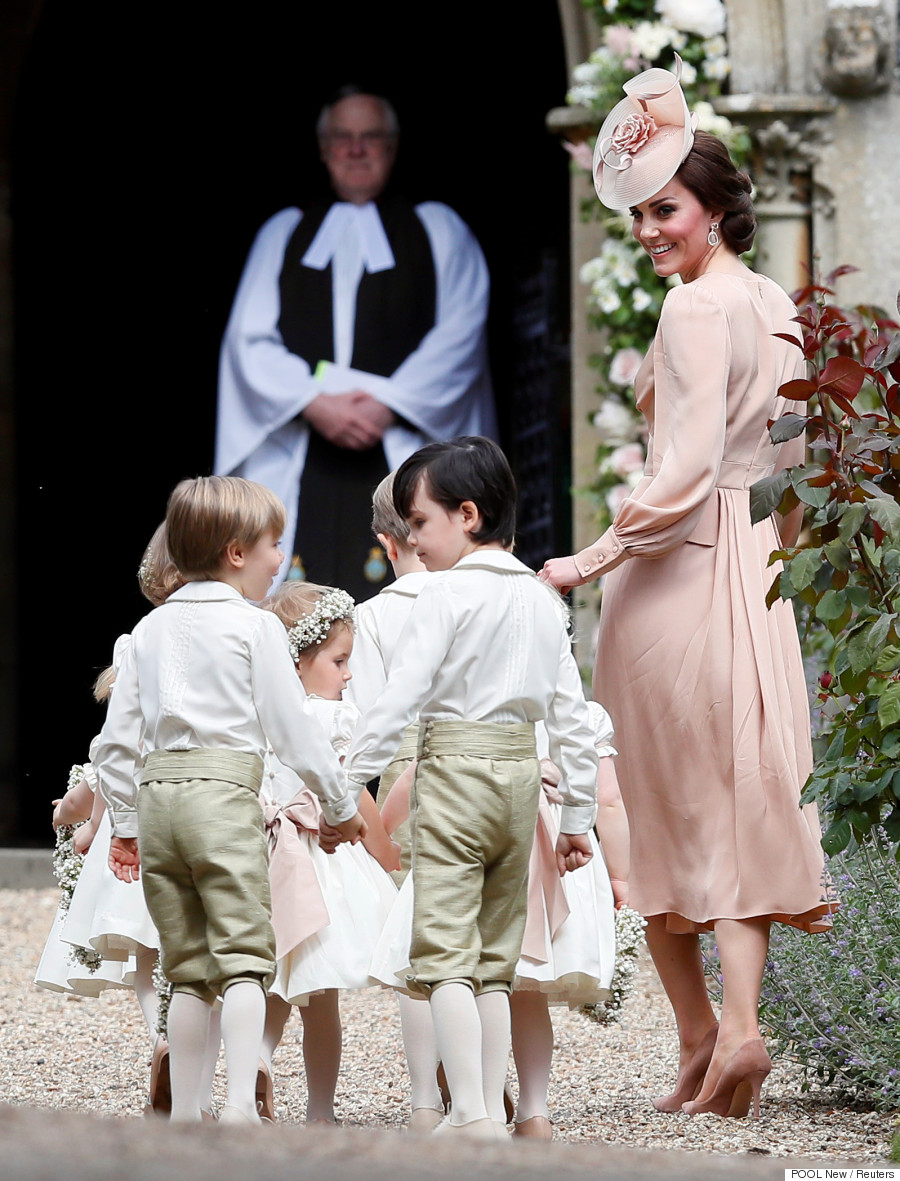 Catherine, Duchess of Cambridge arrives with the page boys and bridesmaids for the wedding of Pippa Middleton and James Matthews at St Mark's Church in Englefield, west of London, on May 20, 2017. (REUTERS/Kirsty Wigglesworth/Pool)
That's not to say it wasn't beautiful, oh no: Pippa's older sis sported a blush mid-length dress with billowing sleeves and a v-neck, and accessorized with a matching fascinator by Jane Taylor and blush pumps. Like we said, major elegance happening here.
But despite the beauty of Kate's outfit, it wasn't nearly the stunner that was Pippa Middleton's maid of honour dress when Catherine married Prince William — you know, the dress that put Pippa on the map thanks to its ~flattering~ shape.
Catherine, Duchess of Cambridge stands with her daughter Princess Charlotte of Cambridge, a bridesmaid, following the wedding of her sister Pippa Middleton to James Matthews at St Mark's Church on May 20, 2017 in Englefield Green, England. (Photo by Justin Tallis - WPA Pool)
And this was probably done on purpose. After all, when your sister is the future Queen Consort of England, it's already tough enough to get attention!
As for Pippa's wedding dress, well, it was bespoke Giles Deacon and naturally, it was stunning.
"I wanted that 'how-was-that-done?' factor," Deacon explained to Business of Fashion about Pippa's wedding gown. "It's all hand-pieced which is why you don't actually see a seam."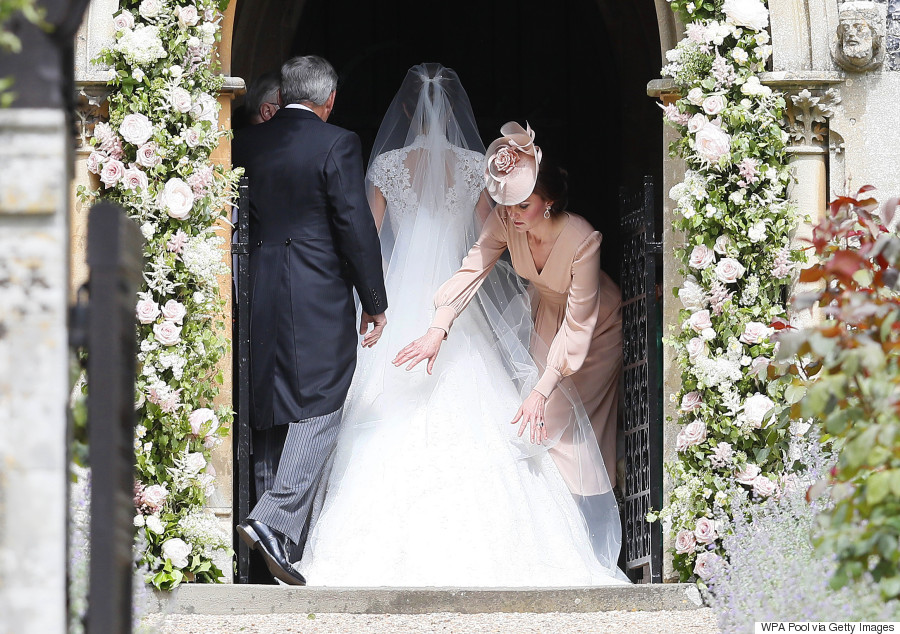 And we're sure Catherine didn't mind being left out of the spotlight — after all, she had plenty of work to do, including making sure Prince George, Princess Charlotte and the other page boys and bridesmaids were behaving and doing their duties, not to mention ensuring her younger sister's dress looked perfect before walking down the aisle.
Now that's sisterly love right there.
Read more about Pippa Middleton's wedding:
Also on HuffPost
POOL New / Reuters

POOL New / Reuters

Pool/Samir Hussein via Getty Images

Pool/Samir Hussein via Getty Images

POOL New / Reuters

POOL New / Reuters

POOL New / Reuters

POOL New / Reuters

Wedding Of Pippa Middleton And James Matthews

Pool/Samir Hussein via Getty Images

POOL New / Reuters

POOL New / Reuters

POOL New / Reuters

POOL New / Reuters

POOL New / Reuters

POOL New / Reuters

Samir Hussein via Getty Images

Samir Hussein via Getty Images

Samir Hussein via Getty Images

POOL New / Reuters

Samir Hussein via Getty Images

JUSTIN TALLIS via Getty Images

POOL New / Reuters

POOL New / Reuters

Samir Hussein via Getty Images

POOL New / Reuters

POOL New / Reuters

Samir Hussein via Getty Images

POOL New / Reuters

POOL New / Reuters

POOL New / Reuters

JUSTIN TALLIS via Getty Images

Samir Hussein via Getty Images

JUSTIN TALLIS via Getty Images

JUSTIN TALLIS via Getty Images

Neil P. Mockford via Getty Images

Neil P. Mockford via Getty Images

Neil P. Mockford via Getty Images

Neil P. Mockford via Getty Images