BTS, a South Korean boy band, deserved all the celebration on Sunday night when they became the first K-Pop group to be nominated and win a Billboard Music Award for Top Social Artist.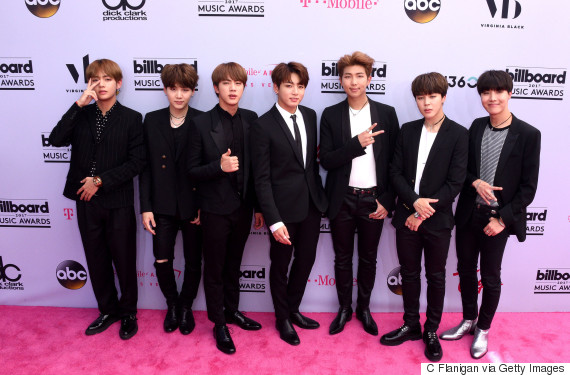 BTS at the 2017 Billboard Music Awards in Las Vegas.
But unfortunately, some people took to Twitter to express their outrage because they didn't think an Asian group deserved to win over stars such as Justin Bieber, Ariana Grande, Shawn Mendes and Selena Gomez.
The backlash on social media proves how shockingly racist people can be.
Who are these Asians!? #BBMA

— SHANELLICA (@nonchalantKUNT) May 22, 2017
@briannampnelson The ignorance is astounding. Who are BTS? You couldn't say that? You had to say Who are these Asians in bowl cuts. Not derogatory at all. pic.twitter.com/rRpZZve0du

— Susy S (@SusyBangtan) May 23, 2017
"who are these asians and why did they win??"

"bts who? asian one direction??"

"what are these asians doing here??"

THIS IS DISRESPEC

— 💕mara💕 (@jackson_namjoon) May 22, 2017
According to Next Shark, one user, who has since deleted her account, also wrote that she couldn't understand what BTS members were saying in their acceptance speech, despite the fact that it was done in English.
"[I don't even know] who those Asians were. I don't wanna know. I'm baffled," she wrote. "I didn't understand what they said. Award shows are so trash now."
Buzzfeed also reports that another user wrote, "Not trying to be racist, but you don't see any American singer or band participating in a Korean award show so, like, BTS please just go back to Korea."
BTS, also known as The Bangtan Boys, has a vast fan base who call themselves the "Army." Before the award show, the hashtag #BTSBBMAS was used over 300 million times on Twitter.
"BTS was one of the first groups to fully embrace social media and completely open themselves up to fans," said Flowsion Shekar, the CEO of Koreaboo, a popular website specializing in K-Pop news. "International fans were able to really relate to them and feel like they truly knew the members individually."
Despite the negative response the group received on Twitter, the "Army" is taking the high road and reminding the world why BTS' win at the 2017 Billboard Music Awards is so important.
Winning on BBMA means they just closed the barriers between asians and westernians. BTS represents us a whole & not as a kpop group itself.

— yoongi's 🌷 (@kkaebjjang0993) May 23, 2017
As bts winning Top Social Artist at bbma i hope we asians get more recognition and respect #BTSBBMAs

— Vivi sama👑 (@_viviwatanabe) May 23, 2017
not only did bts win the first bbma in their genre, but they were finally able to show the world asians can do much more #BBMAs #BTS

— lexii 🇵🇭 (@ashftbeebo) May 22, 2017
BTS winning a bbma is about breaking the barriers for Asians all over the world

— Angela (@angelaleeee) May 22, 2017
Super proud of @BTS_twt ,we need more cultural representation,not many Asians and other foreign artists have this kind of attention #BBMA pic.twitter.com/q0f7NGIuLL

— Bts_Infires (@BtsInfires4) May 22, 2017
Fans drove home the point that Asians are more than just their stereotypes. They can be more than just doctors, mathematicians and the butt of a joke, and they deserve to be represented and given respect.
BTS first gained fame in 2013 after releasing their first single "No More Dream." Although they are the first K-Pop group to win a Billboard award, they are the second Korean artist to win at the award show after PSY, who won the Top Streaming Song award for "Gangnam Style" in 2013.
In their acceptance speech, member Kim Nam-joon, known as "Rap Monster," said, "We still cannot believe that we're standing here on this stage at the Billboard Music Awards. It is so great to see all the artists we admire, and we feel honoured to be in this category with such great artists right in front of us."
He then thanked fans and said, "Please, ARMY, remember what we say: Love myself, love yourself."
Stay On Top Of The Trends
Get the biggest lifestyle news sent to your inbox


Also on HuffPost