QUEBEC — A petition to ban caleches in Quebec City has more than 34,000 signatures after two incidents involving horses on the weekend. Local police say the first occurred when a horse suddenly took off and the driver was unable to control the animal. Soon after, another horse tripped and lay on the ground for about two hours.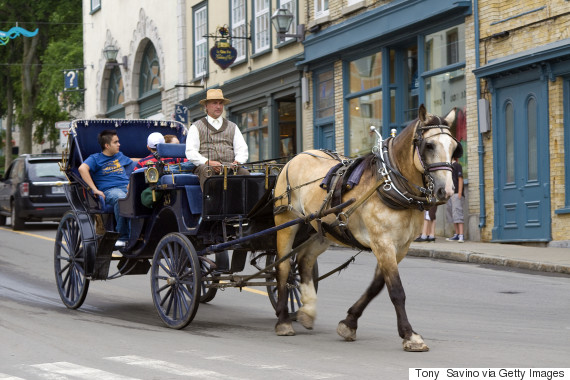 A caleche travels down a street in Old Quebec City in this undated photo. (Photo: Tony Savino/Corbis via Getty Images)
A veterinarian eventually gave the animal a shot of adrenalin and police say it was not injured in the mishap. The petition says horses can work up to nine hours a day if the temperature does not exceed 32 C. "It is time to put an end to this abusive exploitation," it says. "As well as not being very profitable, it causes traffic problems and an increase in carbon dioxide emissions from cars that are stopped. It also is a danger to the animal." Alanna Devine, director of animal advocacy at the Montreal SPCA, again called for the caleche industry to be phased out.
"It is time to put an end to this abusive exploitation." —Petition against caleches
"Incidents like this demonstrate it is inhumane and unsafe," she said in an interview. "And that's something we've been repeating for years and years.  "It is unfortunate these accidents happen...but they're certainly not unexpected. It happens every single year and we know there will certainly be incidents this coming summer in Montreal, especially with the (city's) 375th-anniversary festivities."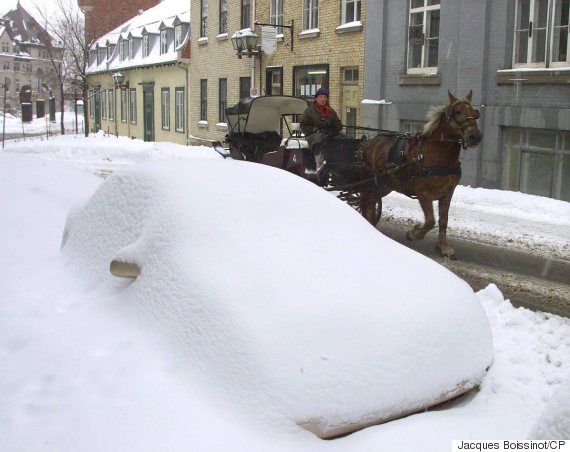 A caleche rids by a snow-covered car in Quebec City on March 14, 2001. (Photo: Jacques Boissinot/CP)
Montreal Mayor Denis Coderre tried to ban caleches in the city in 2016 but a Quebec Superior Court justice ruled the horse-drawn carriages should be allowed to continue operating. The mayor had previously ordered a veterinary report into the health of the animals after photographs on social media showed a horse that had slipped and fallen on a metal plate.