Sir Roger Moore was arguably the greatest James Bond of all time, and his fellow 007 stars knew it!
After news broke on Tuesday that Moore died at age 89 after "a short but brave battle with cancer," Daniel Craig and Pierce Brosnan both paid sweet tributes to their predecessor on social media.
On the James Bond Twitter account, Craig, the current Bond, wrote, "Nobody does it better – love Daniel." The message was paired with a photo of Craig and Moore standing side-by-side in slick black suits.
Nobody Does It Better - love Daniel pic.twitter.com/lkeKirvt0l

— James Bond (@007) May 23, 2017
Similarly, Brosnan — who starred in four Bond films, including "GoldenEye" and "Tomorrow Never Dies" — shared a throwback photo from his 007 days on Facebook and Instagram.
The image shows the 64-year-old actor and Moore walking side-by-side, presumably on set. In the caption, he revealed Moore's influence on him as an actor.
"You were a big part of my life, from 'The Saint' to James Bond," Brosnan wrote. "You were a magnificent James Bond and one that lead the way for me, the world will miss you and your unique sense of humor for years to come."
Brosnan also spoke to People magazine about Moore's influence on the world. Not only did the late actor delight audiences as Bond, but Moore also worked as a UNICEF Goodwill Ambassador for decades.
"He embraced the role [of Bond] with an easy charm and grace that let us all in on the game," Brosnan wrote in a statement to People. "He saved the world seven times and then went on to become an even greater man working to 'save the children' with UNICEF. He never forgot the audience, and we shall never forget him."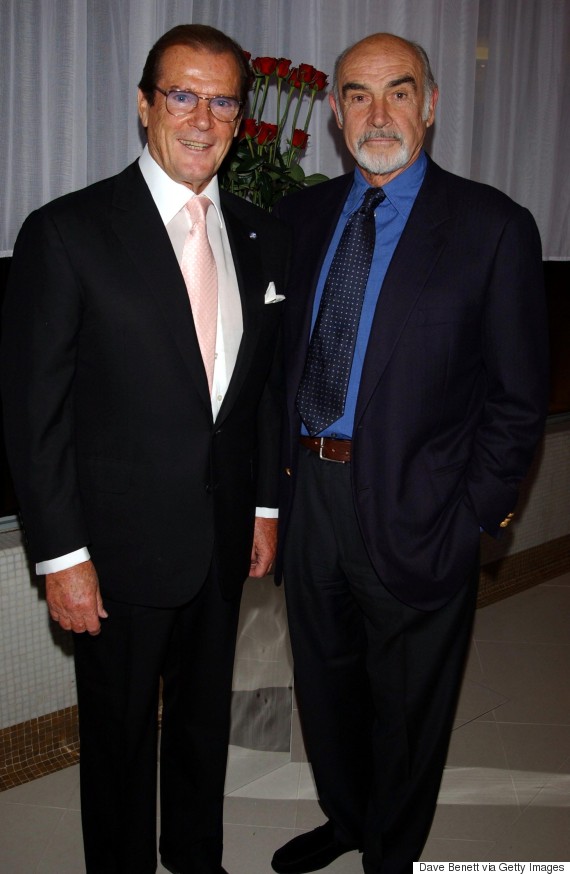 Sir Roger Moore and Sir Sean Connery at a party to celebrate Moore's knighthood.
And finally, Sean Connery, the first actor to play Bond in a movie, also released a statement following the news of Moore's death. Reflecting on the great actor, Connery told The Independent: "I was very sad to hear of Roger's passing. We had an unusually long relationship, by Hollywood standards, that was filled with jokes and laughter. I will miss him."
Moore is the longest serving Bond. He accepted the role in 1972 and went on to star in seven films, starting with 1973's "Live and Let Die." But unlike his fellow 007 stars, Moore never thought of himself as the greatest Bond. In fact, he thought he was only fourth best.
In 2015, Moore spoke about Craig assuming the famous role: "I believe he's an excellent Bond. He's much stronger than I am. I think he does a hell of a good job of it. He and Sean [Connery] are I think undoubtedly the best Bonds."
When asked where he would rank himself, he said, "I think a little bit behind George Lazenby, I suppose."
Lazenby is often considered the least favourite Bond, as he only played the iconic character once in 1969. Clearly Moore's sense of humour will never be forgotten.
Stay On Top Of The Trends
Get the biggest lifestyle news sent to your inbox


Also on HuffPost
The 10 Best James Bond Songs Ever