Alright '90s kids, prepare to get super jealous.
Mom Laura Kowalski told Entertainment Weekly that her movie buff son, Evan, could not be persuaded to have a themed party based on his hobbies, such as soccer or insects. Instead, he insisted he have a celebration revolved around his favourite film about a man who disguises himself as a Scottish nanny to be close to his kids.
Luckily for Evan, he has one creative mom! The birthday party consisted of goodie bags featuring Mrs. Doubtfire thanking her "dears" for coming and fruit kabobs inspired by the "It was a run-by fruiting" scene.
Kowalski even got her cousin to draw a personalized image of Williams' iconic character for her son. The image read, "Happy Birthday Evan Dear!"
But the best part of the party, by far, was the cake. Behold!
To get the perfect "Mrs. Doubtfire"-themed cake for her son, Kowalski made a callout on Facebook and found Angie Claxon of Cakes By Sweetypants.
"I was actually kind of busy, but I thought, I have to make a 'Mrs. Doubtfire' cake. I mean, how could you not?" Claxon admitted to WLWT5. "I just wanted it to be fun for a little boy, so I wanted it to be colourful, that's why I chose the pie-in-the-face scene."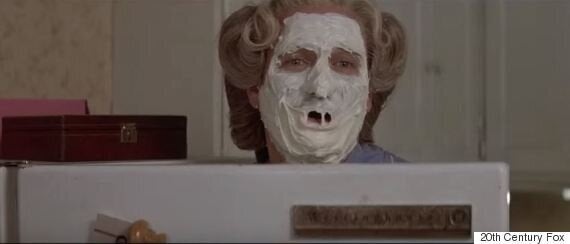 Robin Williams as Mrs. Doubtfire in the pie-in-the-face scene.
Claxon did a brilliant job of incorporating a number of "Mrs. Doubtfire" elements into the cake. Not only did it feature the Scottish nanny in her pie face mask, but it featured her with her breasts aflame and the two garbage can covers she used to put herself out.
On the Today Show's Facebook page, parents and fans of the film wrote how envious they were of Evan's brilliant birthday party. "This is amazing," one parent wrote. "I can only hope the twins enjoy this movie as half as this kid."
"What a cute idea! That was one of my favourite movies growing up," another said.
"I want this when I turn 30," another added. "You can't tell me no."
Explaining Evan's obsession with "Mrs. Doubtfire," Kowalski explained to Today.com, "One of Evan's favourite things to do is watch movies, so we watch a lot of movies in the evening to wind down. He likes classics, like 'Home Alone' or 'Matilda,' so about six months ago, I showed him 'Mrs. Doubtfire.' He loved it. Just loved it."
We can't blame him! "Mrs. Doubtfire" stole our hearts nearly 25 years ago and it still remains one of the most beloved films starring the late Robin Williams. Clearly Evan has good taste.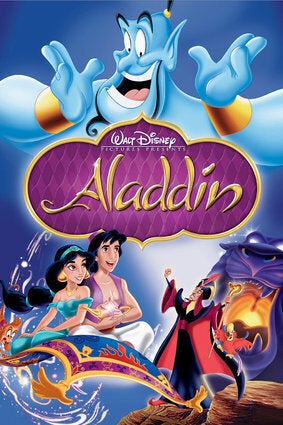 Robin Williams' Movies Your Kids Need To See