Musicians at a Mississauga, Ont. house party thought police were there to shut them down.
Peel police officers had responded to a noise complaint early Saturday evening. But instead of turning the teens to turn off the music, the officers told the band, Vinyl Ambush, just to turn down the volume and move the speakers.
When the officers left and then came back a few hours later, party-goers thought the night was definitely over.
Instead, Const. Joel Clark stepped behind the drum set, and proceeded to jam with the band.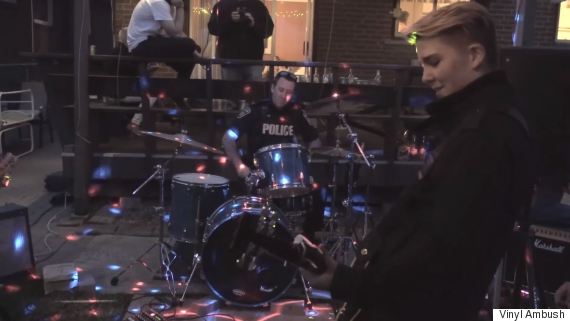 "It was very surreal," Belle Matthews told HuffPost Canada. "I was astounded by the policeman's skills. It was an awesome experience."
Clark, who used to play in a band that toured, then gave the teens some advice on their musical careers.
"Do what you gotta do to keep going. My biggest regret in my life was stopping, that was the most fun I've had in years," he said, in a video of the event. "Enjoy yourselves. Play a couple more and then do what you gotta do."
"Many thanks to Peel Region Police for making it such a fun and memorable night for the band and everyone there. You guys ROCK!" the group wrote on YouTube.
Watch video of the jam session above.
Earlier On HuffPost: