A Regina woman made a troubling discovery on her front yard Tuesday morning — three pieces of hot dog pierced with razor blade fragments.
Emma Medeiros told CBC News it was lucky she came across the sausage pieces first before one of her three dogs.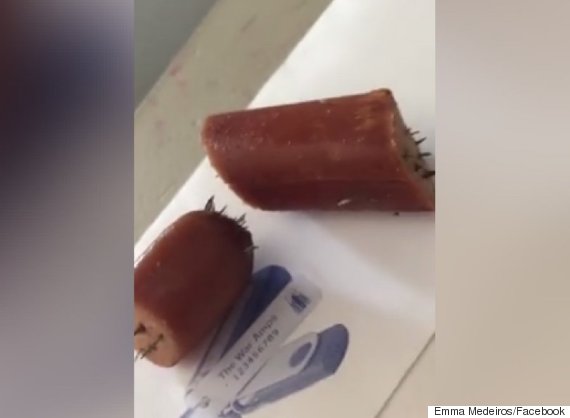 A Regina woman found three pieces of hot dog outside her house Tuesday, each embedded with razor blade shards. (Photo: Emma Medeiros/Facebook)
Her boyfriend Kaleb Smith told the broadcaster he couldn't believe what had happened.
"I mean, you see it in movies, you see it in big cities, you don't think it's going to happen to you in Regina, that's for sure," he said.
The couple said they filed a statement with police.
Medeiros uploaded a video of the hot dog pieces to Facebook, urging pet owners to check their yards.
Im not sure where to post this but I took my fur babies out for a peee this morning and happened to notice some hot dog in my yard, which is very unusual. So i went up to the pieces and it turns out theres a bunch of razor blades in each piece.... im located on 6th & queen so anyone around me, PLEASE CHECK YOUR YARDS!!!!

Posted by Emma Medeiros on Tuesday, May 23, 2017
Thousands of people shared her post, a majority expressing shock and disgust over someone's intent to injure dogs with sausage meat pierced with razor blades tossed outside someone's home.
If owners suspect their pets have ingested something harmful, Regina veterinarian Lesley Sawa advises they watch out for signs of blood or dark fluid in vomit.
She told CTV News that veterinarians will almost always ask to take an X-ray.
Under Saskatchewan's Animal Protection Act, those found guilty of animal cruelty can face fines up to $25,000 and/or jail time up to two years.